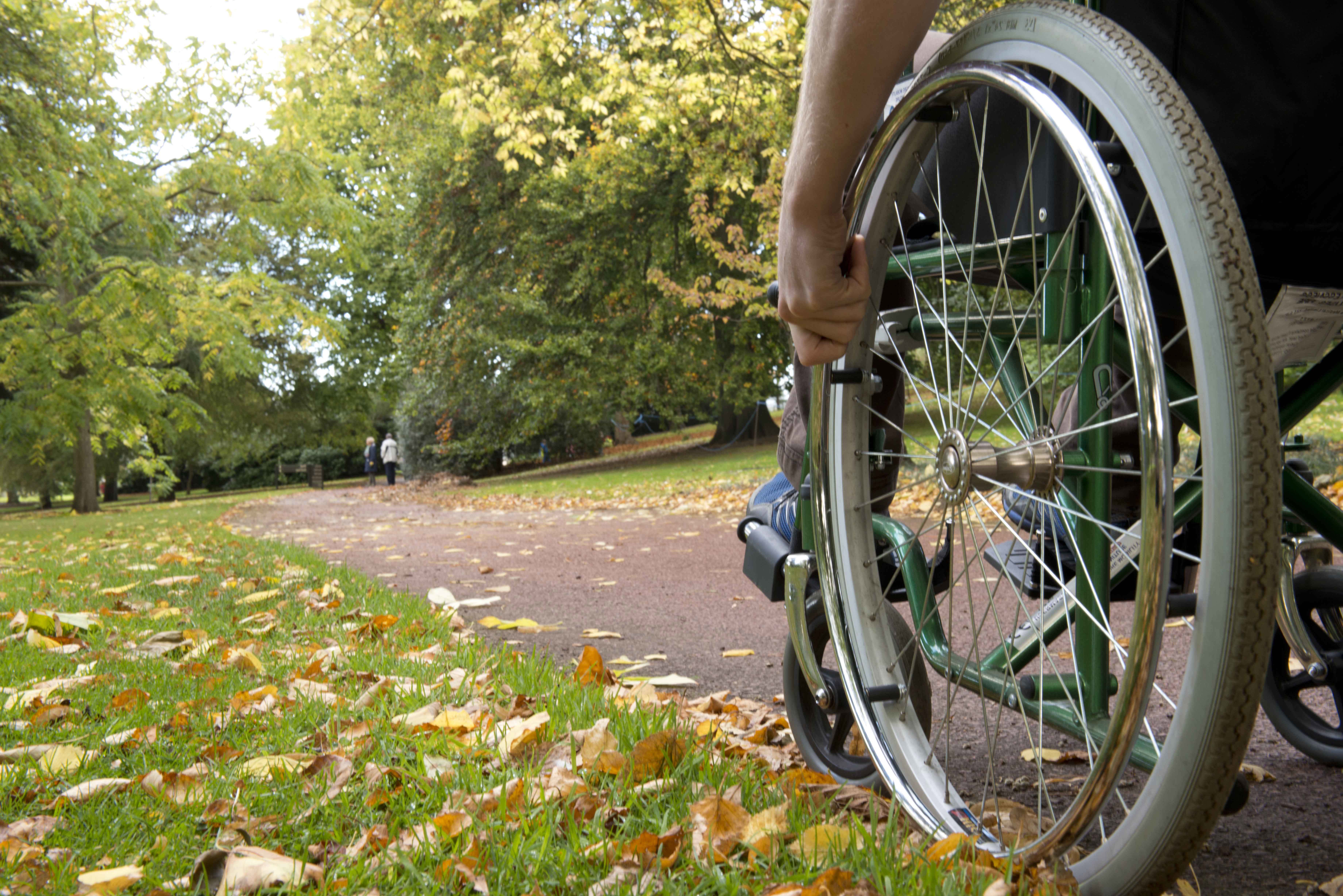 Access
The Royal Botanic Garden Edinburgh welcomes all visitors whatever their specific requirements.
Accessibility at the Botanics

We want all visitors to enjoy the Royal Botanic Garden Edinburgh and aim to provide the best possible access to everyone in order that they enjoy their visit.

We hope the following information will help you plan your trip to the Garden.

At a glance

Accessible toilets are located in our visitor centre and in the Garden.
Wheelchairs and mobility scooters are available.
There is seating at regular intervals in the Garden.
Water is available for assistance animals.
Pen, paper and magnifying glasses are available at our Visitor Welcome desk.
Hearing loops are located at our welcome points
British Sign Language seasonal garden tours are available to book.

Assistance animals

Assistance animals that are highly trained are welcome at the Garden.

Borrow a wheelchair

Mobility scooters and wheelchairs are available for hire at no extra cost. There is limited availability so we highly recommend booking in advance. To book a wheelchair or mobility scooter, or if you require any further access advice in order to plan your visit, please contact us on 0131 248 2909 or send an email to visitorwelcome@rbge.org.uk 

Download our Access Guide

Download our Access Guide* (Word doc). If you need a copy in an alternative format, please contact webmaster@rbge.org.uk or call 0131 552 7171. * Please note that our Access Guide is currently being updated and a revised version will shortly be published.

Contact us

The Royal Botanic Garden Edinburgh is pleased to work in partnership with WelcoMe.

WelcoMe allows visitors with accessibility needs to discreetly inform our staff of the assistance they require before visiting.

Alternatively, you can let us know directly by email visitorwelcome@rbge.org.uk or call 0131 248 2909.

How to use WelcoMe

1. On this link you can find our profile with more information and venue access.
2. Click on 'Plan a visit'. If you don't have an account yet, sign up and complete your accessibility profile.
3. Share your access needs, requirements and what help you may need.
4. We will get notified so the team can make sure they are prepared to greet you and have what you need ready for you.
5. On the day of the visit, once you are at the door click on 'Arrive'. We will get a notification and be with you shortly.

 
Access Guide
Information on arrival

The West Gate is the main entrance to the Royal Botanic Garden Edinburgh, where the John Hope Gateway visitor centre is located.

There are six Blue Badge parking spaces located on Arboretum Place to the left of the West Gate entrance, and a further three spaces opposite to the left of Inverleith Park's entrance gate.
The step-free entrance is wheelchair accessible. Note, there is a foot mat at the gate which protects the Garden's plants from external plant diseases.
Please note that manual wheelchair users may need assistance on the 70m path leading to and from the Garden from the John Hope Gateway which has an incline of 1.12. The path can be avoided by taking the accessible lift to restaurant level and to the terrace beyond.
The information desk at the entrance has a lowered section to the till point and a hearing loop. The John Hope Gateway has six motorised scooters and two wheelchairs for visitors to use. If possible, please book in advance by calling 0131 248 2909.
A lift, large enough to accommodate a person using a standard wheelchair and at least one companion, is available to take visitors to The Gateway restaurant on the first floor and to the outdoor terrace beyond. It measures 90cms wide x 135cm depth x 190cm height.
There are three accessible toilets in the John Hope Gateway.  Please refer to our access statement.

Guided Tours

Our team of volunteer Garden Guides conduct tours around the Garden at 11am every day, from 1 April to 30 October. Tours last 90 minutes and we always try to tailor the tour to meet the specific needs of the group. Find out more.

The Garden

The Royal Botanic Garden Edinburgh is one of the leading botanic gardens in the world. It is largely accessible to wheelchair users, with marked routes, and its public buildings have level or ramped ground floor access. There are tarmac paths in most places. Any paths which are not wheelchair accessible are sign-posted. Beware that some of the Garden's paths can be a little steep, due to the gradient and/or camber.

Throughout the Garden, signage is at ground or low level so that information can be readily seen by a child's eye or when in a seated position. The Garden provides 140 benches across the Garden with arms and without.

There is currently additional signage in the Garden which identify temporary access changes. Please look out for Edinburgh Biomes signs during your visit. They will advise you of temporary access changes while work on the Edinburgh Biomes project is progressing.

The Glasshouse Visit

Our Glasshouses are currently closed as part of Edinburgh Biomes, the Garden's major restoration and construction project. Work is now underway to protect our globally important Living Collection of plants for future generations. We apologise for any inconvenience.

 

Cafés

Gateway Café

The Gateway Cafe is on the first floor of the John Hope Gateway and can be accessed by the lift, located to the rear of the main wooden spiral staircase in the atrium. It takes you directly to the restaurant entrance point.

The staff in the Gateway Café, which is a self-service outlet, would be happy to assist you or serve you at your table. Please ask for assistance.
The tables, which are accessible for wheelchair users, offer a view over-looking the bio-diversity Garden.
There are accessible toilets on the same floor as the restaurant.
The cafe can also be accessed by scooters and wheelchairs from the Garden via the John Hope Gateway decking where there is a push button automatic door and step free access.
Tables and furniture can be moved as required.

Terrace Café

The Terrace Café by Inverleith Lawn is accessible by wheelchair and also provides an accessible toilet. Outside on the terrace, there are two tables that have been designated as having a priority for wheelchair users. The staff in the Terrace Café, which is a self-service outlet, would be happy to assist you or serve you at your table. Please ask for assistance.

East Gate Lodge

You will find a selection of coffees, teas and snacks at the East Gate Lodge and an area where you can sit outside, which is accessible for wheelchairs. There is also an accessible toilet inside the Lodge. If you need assistance, the staff will happily help you or serve you at a table outside, so please just ask.

Shop

There is a shop in the John Hope Gateway, easily accessed directly from the entrance foyer, which offers a wide range of quality gifts, souvenirs, books and plants.

Step free access and spacious placement of shop fixtures to allow ease of movement for wheelchairs and motorised scooters.
The indoor plant area is accessed through automatic doors and there is ramp access to the outdoor plant area.
The shop is evenly and well lit.
There is a hearing loop at the till point, a magnifying glass, pen and paper.
Shop staff are always on hand to offer assistance.

Library and Herbarium

Please note that access is by appointment only - please see the Opening Hours page to find out more. 


A lift to the left of the reception area of the Balfour Building  provides access to the library and an accessible toilet is also located nearby.

An accessible lift is available to take visitors to  the Herbarium as well as stairs as an alternative route.

The lift measures 160cm width x 140cm depth x 214 cm height.

Accessible Toilets

These are the locations of accessible toilets at the Royal Botanic Garden Edinburgh:

Three in the John Hope Gateway visitor centre at the West Gate (two at the entrance and one on the first floor)
One in the East Gate Lodge at the East Gate
One located centrally in the Garden

Hearing Loops

A permanent Induction Loop is fitted at the John Hope Gateway Visitor Centre Information Desk. There are three portable loops located at the John Hope Gateway shop counter, the East Gate Visitor Welcome counter and Inverleith House reception desk.

Assistance Animals

Assistance animals that are highly trained are welcome at the Garden. For more information, please read our Assistance Animal Policy for Visitors.

Bowls of water are available on request.

 

A final word about the weather

Please note that in severe weather conditions the Garden closes for safety reasons. You are welcome to call us to check that the Garden is open on 0131 248 2909. Visitors are recommended to take extra care outside when exposed to weather conditions such as wind and rain.