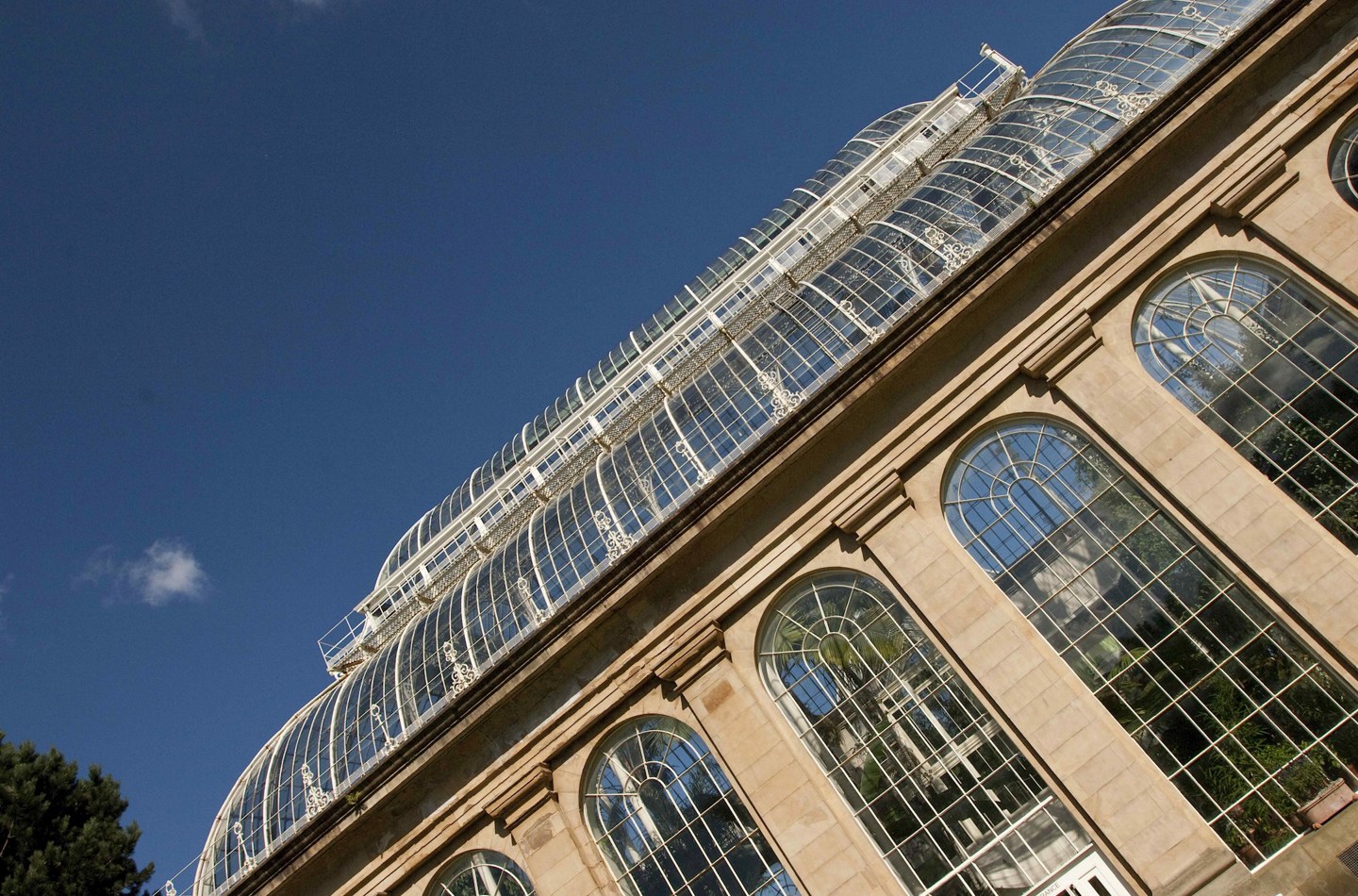 American Friends of the Botanics Foundation
Support the vital work of the Royal Botanic Garden Edinburgh by making a gift to the American Friends of the Botanic Foundation.
Donate now
The Royal Botanic Garden Edinburgh (RBGE) founded in 1670 is one of the four top scientific focussed botanical gardens in the world. The living collection at RBGE encompasses more than 130,000 plants and 13,600 species from over 160 countries.

Simon Milne, MBE FRGS has served as Regius Keeper of RBGE since 2014 and heads a professional staff that in the past 12 months has described over 50 plant species new to science and has welcomed over 1 million visitors to its four garden sites. RBGE partners with organisations and communities in over 40 countries to conserve and restore biodiversity, deliver nature-based solutions to climate change, and train the next generation of leaders in horticulture and botany.

The RBGE is the global centre for plant science, horticulture, and education, and collectively we are the guardians of one of the richest plant collections on earth.

 
Officers and Board of Directors
Liza Gilbert, Chair

Liza is a landscape designer. Since 2012, she has served as a board member of the Dumbarton Oaks Park Conservancy and is currently co-Chair of the board. She is also a board member of the Prospect Park Alliance, working to preserve Olmsted and Vaux's 526-acre urban oasis in Brooklyn, NY. Liza previously served on the board of Dancing in the Streets, the New York-based arts organization dedicated to the presentation of performing arts in public sites.

Liza's professional experience includes working as a project designer and construction supervisor at the New York firms of Michael Van Valkenburgh Associates; at Judith Heintz Landscape Architecture; at Douglas Reed Landscape Architecture in Cambridge, MA; and at Giannini & Vagnetti Architetti in Rome, Italy, where her passion for landscape architecture began. The pivotal experience of working in Rome for Giannini & Vagnetti Architetti opened her imagination to the deep history, meaning, and possibility of the profession and its impact on shaping how we see and inhabit our worlds.

Liza received a B.A. from Barnard College and an M.L.A. from the Graduate School of Design at Harvard University.

Andrew Watt, Director

Andrew has served the fundraising and social sectors for nearly 30 years, representing them in Brussels, Westminster, Edinburgh, Washington D.C., Ottawa and around the globe. From 2005-2018, Andrew lived and worked in Washington, D.C. He's now based in the U.K.

Andrew served at a senior level at the Chartered Institute of Fundraising, AFP Global and the Association for Healthcare Philanthropy. In a voluntary capacity, he's served as a member of the IRS Advisory Committee on Tax Exempt and Government Entities (ACT); as a Board member of National Philanthropic Trust – UK; and he's currently a Council member of Rogare; a Board member of SOFII; a former chairman and current Board member of the American Friends of Winchester College; a Vice Chair of Venture South (funded by the Arts Council on the Isle of Wight); and chair of the Health Sector Group of the Chartered Institute of Fundraising.

Andrew is Director of Third Sector Strategy and Senior Principal of Accordant. He is a graduate of the University of Edinburgh

Lorna Stoddart, Director

With over 25 years of fundraising experience, working 'from the bottom up' as a volunteer, community fundraiser, fundraising manager, director, and trustee, Lorna has learnt a considerable amount about people – what charities expect from donors and what they can expect in return. Her work experience includes House to House Manager at NCH, Action for Children; Fundraising Manager at ICRF; Director of Development and Membership at The National Trust for Scotland for 9 years, and most recently, as Director of Development at Winchester College and Director of the Winchester College Society for 14 years.

Lorna is a Director of the Cairngorm Mountain Trust; an Advisor to the Development Board of the Scottish Association of Marine Science; and a consultant to Strathallan School. She was previously a trustee of the Royal Scottish Geographical Society, Director of the American Friends of Winchester College, Director of the Hong Kong Friends of Winchester College, and a Manager of the New Club, Edinburgh.

Lorna is a graduate of the University of Montreux and has a Diploma with the Chartered Institute of Fundraising. She is a British Association of Snowsport Instructors Level 3 ISIA Instructor, and her first paid employment was teaching for the Escola d'Esqui Andorra over three winter seasons.

Emma Lacroix, Director

Emma Lacroix is the Royal Botanic Garden Edinburgh Director representative for the American Friends of the Botanics Foundation Board. She was appointed Director Development of the Garden in 2018, and as Director of Development and Communications in 2023.

Charged with leading the Royal Botanic Garden Edinburgh's fundraising, membership, and communications activities, Emma has responsibility for programmes and initiatives across the four gardens. She works closely with staff, trustees, and the Botanics Foundation to develop and implement strategies that support a positive future for plants, people and the planet.

Mary Emerson, Executive Director and Assistant Secretary

Mary is currently part-time Executive Director of the American Friends of Winchester College (AFWC), a role she has fulfilled since 2009. In 2022 she moved to Winchester to support the Development Department in a temporary capacity until the new Director took up post in the Spring of 2023.

Mary's work has been almost exclusively in the education and cultural sectors. After graduating from Harvard with a degree in Classical Archaeology, she taught at an independent girl's school in New York and was soon promoted to Head of Middle School.

After a period in the President's office at The Metropolitan Museum of Art, she moved to the Frick Collection as a fundraiser. After 10 years at the Frick, she left to become the Executive Director of the American School of Classical Studies at Athens, a graduate research institute in Greece that is chartered and governed in the US. Her most recent full-time position was as a fundraiser and researcher at the La Jolla Music Society in California. Volunteering roles include at the Seattle Art Museum and the San Diego Symphony.

Mary supports the work of the American Friends of the Botanics Foundation in a part-time capacity.

Keeping in touch

We would love to hear from you and welcome you as a Friend! Please sign up here to receive the AFBF Newsletter and invitations to events. We comply with strict regulations on data protection, details of which can be found on the RBGE webpage here.


Donate

The American Friends of the Botanic Foundation is an independent non-profit charitable organization recognized under Section 501(c)3 of the Internal Revenue tax code. Donations are tax-deductible to the extent allowed by law. Charity Number/EIN: 92-1336746.

You can make a gift through the on-line portal. We would welcome your support!


General Inquiries

Mary Emerson memerson@rbge.org.uk