Sustainability at the Gardens
The Royal Botanic Garden Edinburgh considers the environment at the heart of our activities in the world of plants. We aim to minimise our impacts on the environment while we work.
We measure our impacts and submit our carbon footprint to the Scottish Government every year as part of our accounting procedures.

Our main impacts are:

Waste - Bins for recycling waste are available in all our gardens for visitors and staff - check our approach to plastics.  Food waste is collected and sent to an anaerobic digestion plant in Scotland.
Energy - Our biggest impacts are the energy, as gas and oil, required to heat our glasshouses and main office buildings. We have a long term plan to replace the old heating system and renovate the glasshouses so that less energy is required to maintain the temperature which the plants need to grow well.
Travel - a lot of our crucial work documenting biodiversity and collaborating with other institutions requires travel to the rest of Europe and beyond and so long haul flights are a part of our carbon footprint. However, we have a 'no domestic flights policy' by which staff travel by bus and train where feasible within the UK and often to Europe as well.

In recent years we have installed renewable energy sources and energy saving features in new buildings and renovations wherever possible. For instance, Logan Botanic Garden is one of the first gardens in Scotland to install an Electric Vehicle Charging Point. The Garden received an Energy Saving Trust grant and now has the charging point installed in the car park. The charger is free to use.

See some of the new and energy saving features we have installed.

Useful links
Dawyck's Hydro
Dawyck House was one of the first houses in Scotland to have its own electricity supply. The early Victorian hydro-electric system used water from the Scrape Burn which runs through the Garden. The old Dynamo House was situated in the middle of the Garden not far from the house.
By the time RBGE acquired the Garden in 1978 the system had long since been replaced by a supply from the national grid. The remaining infrastructure had fallen into disrepair and been removed.
With increasing interest in sustainability and the need to reduce carbon emissions we decided to reintroduce a hydro-electric system using new technology. Depending on the flow of the burn it can produce enough electricity to meet our demands plus surplus energy which we can sell to the grid Power output and carbon savings are displayed on a meter inside the Visitor Centre.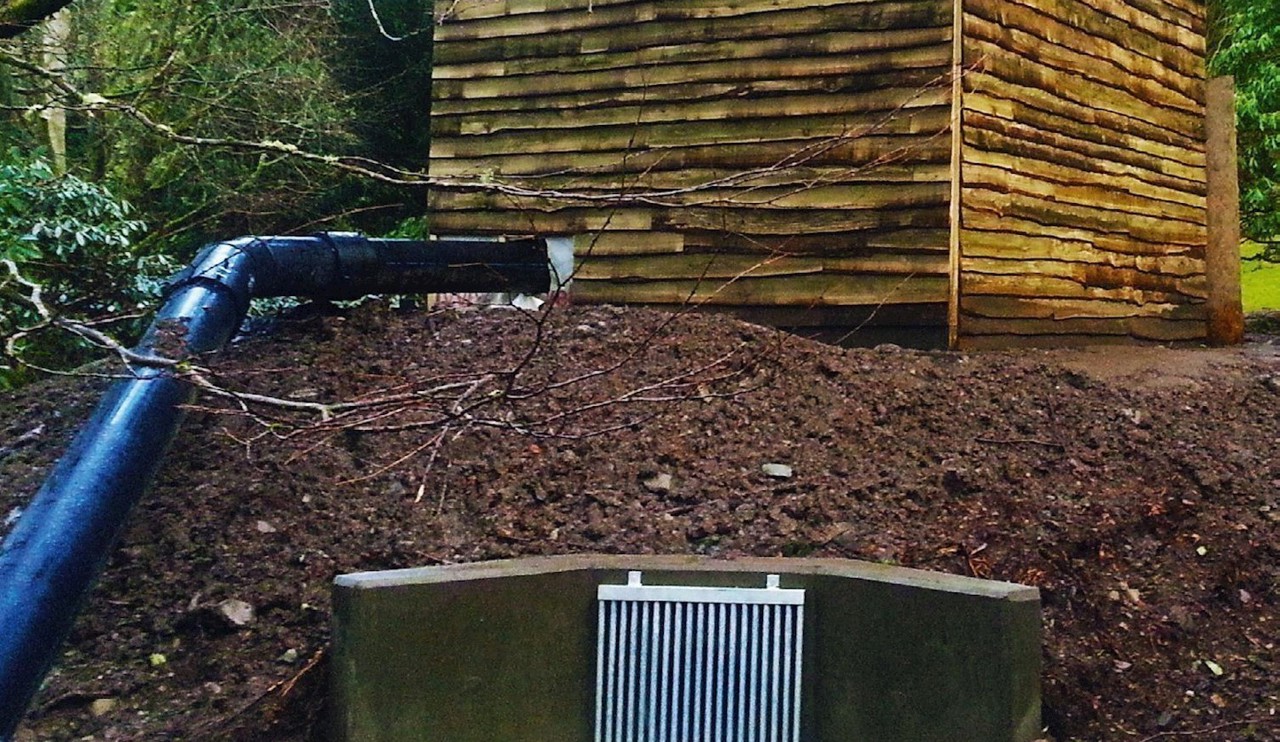 Dawyck Turbine Hut
The Hydro power scheme was officially launched on the 19th May 2014 making Dawyck the first carbon neutral botanic garden in the UK. Sufficient electricity to power 12 average-sized Scottish family homes for one year has been delivered to the national grid by this scheme.
See How Dawyck's hydro-electric system works