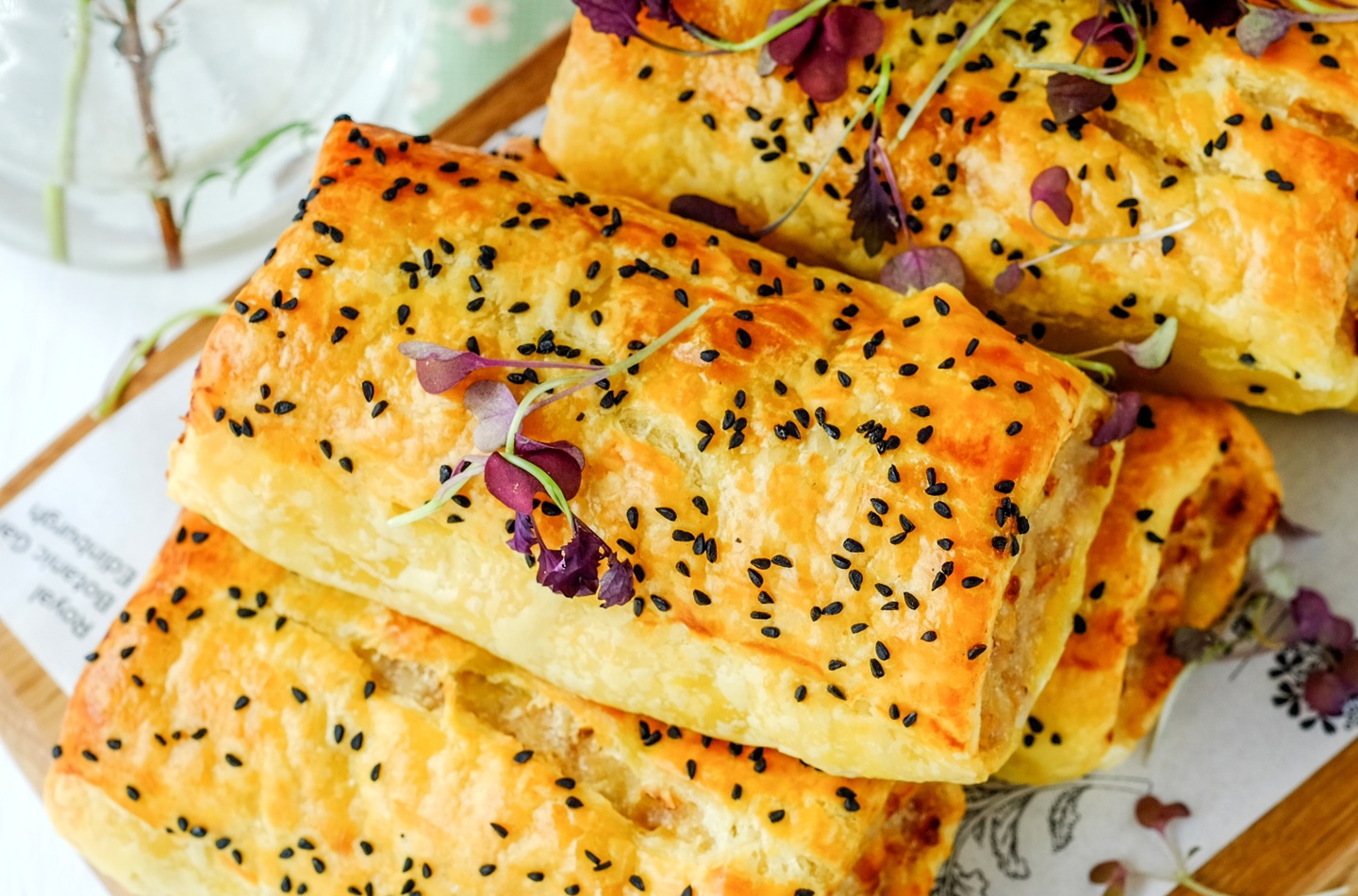 Kitchen Garden pumpkin, chesnut and caramelised onion sausage roll
Makes 6 large or 24 mini sausage rolls


Ingredients
1 x 320g ready rolled puff pastry
1 pumpkin or butternut squash
1 tsp each smoked paprika, ground cumin, fennel seeds and ground coriander
2 cloves garlic, finely grated
180g cooked chestnuts, finely chopped
2 large red onions, finely sliced
100g puy lentils, cooked
1 bunch parsley, finely chopped
2 eggs, beaten
2 tbsp pumpkin seeds, to garnish

Method

1. Heat your oven to 180°c. Start by roasting the pumpkin. Place the spices and grated garlic into a large bowl along with a good splash of olive oil and a pinch of seasoning. Peel the pumpkin or squash, cut in half, remove the seeds, then cut into wedges. Toss through the spice mix and transfer to a parchment lined baking tray. Place in the oven and cook for 20-25 minutes, until soft and starting to colour. Transfer to a large mixing bowl and use a fork to roughly mash. Leave to cool.

2. In a large, heavy based frying pan, heat a splash of olive oil and add the sliced red onions. Cook on a medium heat, stirring regularly, until the onions are softened and beginning to caramelise. Stir through a pinch of seasoning, remove from the heat and leave to cool.

3. Add the onions to the same bowl as the pumpkin and add the chopped chestnuts, parsley and cooked puy lentils. Mix to thoroughly combine the ingredients, check the seasoning, then split the mixture into three equal balls, roughly 300g each.

4. Roll out your puff pastry, and place in front of you so that the shorter side is at a right angle to you. Take one ball of the pumpkin filling and use your hands to roll into a longer sausage the width of the puff pastry sheet. Place this roll approximately 1.5 inches in from the edge of the pastry, and repeat with the other two balls, leaving room around each one.

5. Egg wash the gaps in between, then cut through the pastry so you have three separate pieces. Roll the pastry up around the filling, then, with the overlapping pastry on the bottom, cut each roll in half (or into 8 if making mini ones).

6. Place spaced out on a baking parchment lined oven sheet, then brush egg wash all over the pastry and sprinkle with pumpkin seeds.

7. Bake for 20-25 minutes for the large ones, or 12-15 minutes for the small ones, until deep golden.