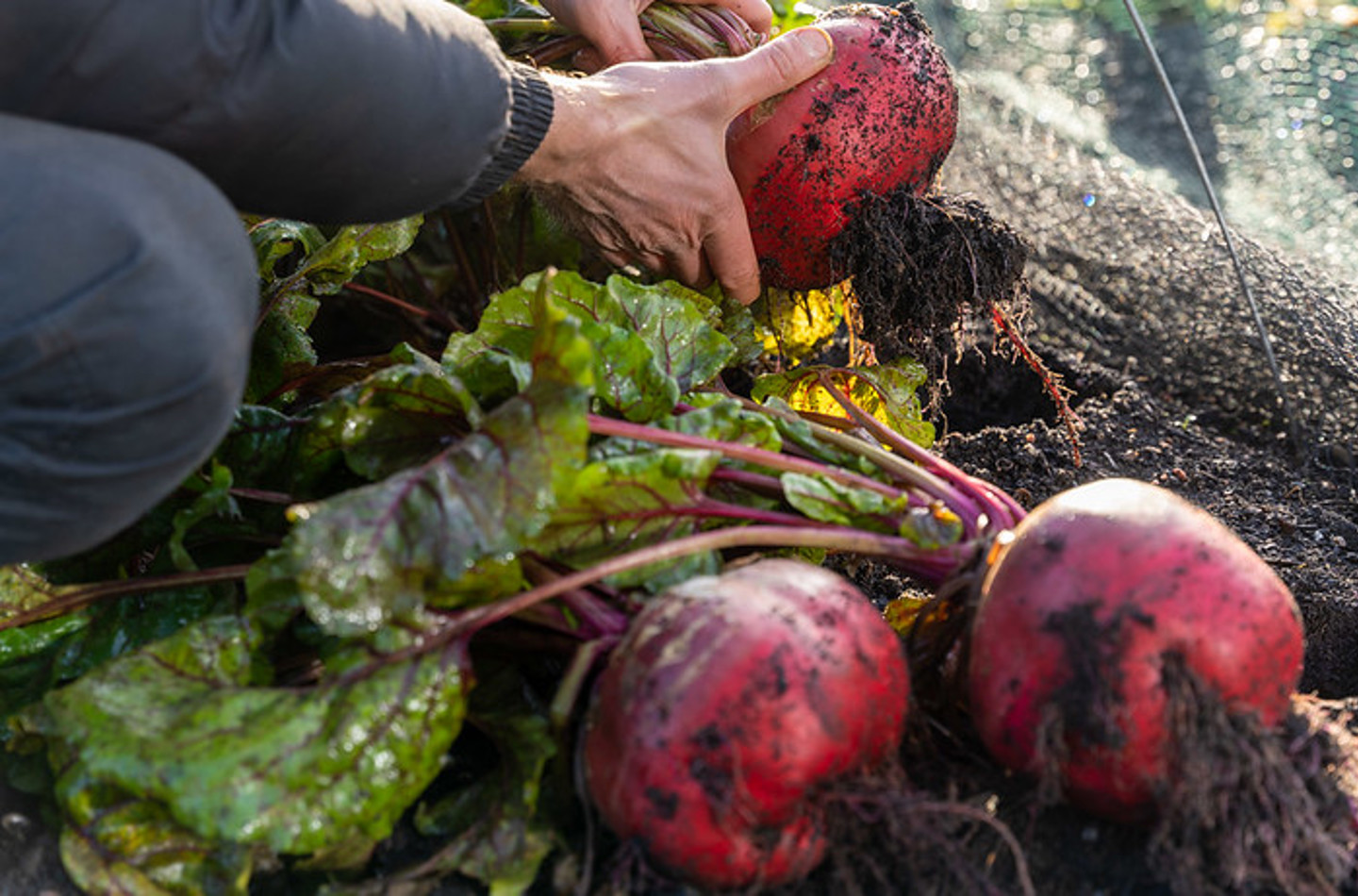 Kitchen Garden
Enjoy seasonal food from our Kitchen Garden
Inspired by our on-site Kitchen Garden, the menus in our cafés are all about using brilliant ingredients, cooked simply to let the flavours shine.

We do not have a fixed menu as we work extremely hard to forage food and ingredients from our Kitchen Garden to create fresh dishes daily that are seasonal and bursting with flavour.

Our Kitchen Gardener and team of chefs work closely on a seasonal growing plan to ensure a steady supply of fresh ingredients for our menus – click on the sample menus below to see what ingredients to look out for each season that are grown in our Kitchen Garden.

Watch the short film below to find out more about the Kitchen Garden.
Watch: The Market Garden
Read video transcript

Video Transcript

| Time | Description |
| --- | --- |
| | |
| | [Ben Dell, Gardener] Well, from this plot, last year we got 1,000 kilograms. That's more than a metric ton. It works out as about 23 kilos a week. |
| | [Stephen] Tell me a little bit more about the whole ethos behind how we grow here. |
| | [Ben] Well, we are certified organic by the Soil Association. So what we're trying to do is grow the crops in the highest environmental standards, without pesticides, without fertilizers, without herbicides. So we make all our own compost and that's how we feed the soil to feed the plants. We minimize waste, we minimize inputs, and I personally think that the veg tastes better for that. |
| | [Stephen] But how do we get it from the garden to the cafe? [Ben] So one day a week I harvest the crops, pile it up into a wheelbarrow, and deliver it straight to the kitchens. This morning I brought you some fresh leeks from the garden. What are you gonna do with them? [A Chef] I will do a leek and potato gratin. So what I will do, actually, I will cook slowly, leek with butter and garlic, then add fresh garden thyme because our people love it. They're always asking about what veg and fruit we're getting from the garden. [Ben] So do you think customers appreciate it? [Chef] Yes, you cannot get anything better than at the Botanic. It's so great. [Stephen] So this project has been going on six or seven years now, Ben. So what do you think of it? What are the benefits that come out of it? [Ben] Well, I think it's amazing that customers that come to the cafes can actually see where the vegetables have grown from, and get so many questions from people walking through the garden saying, "Oh," you know, "what's growing at the moment, what's going up to the cafe?" And they're always really impressed to hear that the cafe uses stuff from the garden, so I think that's brilliant. And you know, we're showing people that we can grow a range of crops all year round, here in Scotland, and we can supply a catering establishment. You know, this is a brilliant message in terms of sustainability. And I think the crops taste great as well and they're highly nutritious. [Stephen] Yeah. [Ben] Because they haven't been sitting on the shelves for six months or whatever it is these days, |
| | [Ben] So one day a week I harvest the crops, pile it up into a wheelbarrow, and deliver it straight to the kitchens. This morning I brought you some fresh leeks from the garden. What are you gonna do with them? |
| | [A Chef] I will do a leek and potato gratin. So what I will do, actually, I will cook slowly, leek with butter and garlic, then add fresh garden thyme because our people love it. They're always asking about what veg and fruit we're getting from the garden. |
| | [Ben] So do you think customers appreciate it? |
| | [Chef] Yes, you cannot get anything better than at the Botanic. It's so great. |
| | [Stephen] So this project has been going on six or seven years now, Ben. So what do you think of it? What are the benefits that come out of it? |
| | [Ben] Well, I think it's amazing that customers that come to the cafes can actually see where the vegetables have grown from, and get so many questions from people walking through the garden saying, "Oh," you know, "what's growing at the moment, what's going up to the cafe?" And they're always really impressed to hear that the cafe uses stuff from the garden, so I think that's brilliant. And you know, we're showing people that we can grow a range of crops all year round, here in Scotland, and we can supply a catering establishment. You know, this is a brilliant message in terms of sustainability. And I think the crops taste great as well and they're highly nutritious. |
| | [Stephen] Yeah. |
| | [Ben] Because they haven't been sitting on the shelves for six months or whatever it is these days, |
| | [Stephen] Pretty much. that happens with crops. Yeah. |
| | [Stephen] Straight out of the ground. |
| | [Ben] Yeah. |
| | [Stephen] Absolutely amazing. |

Recipes from the Kitchen Garden