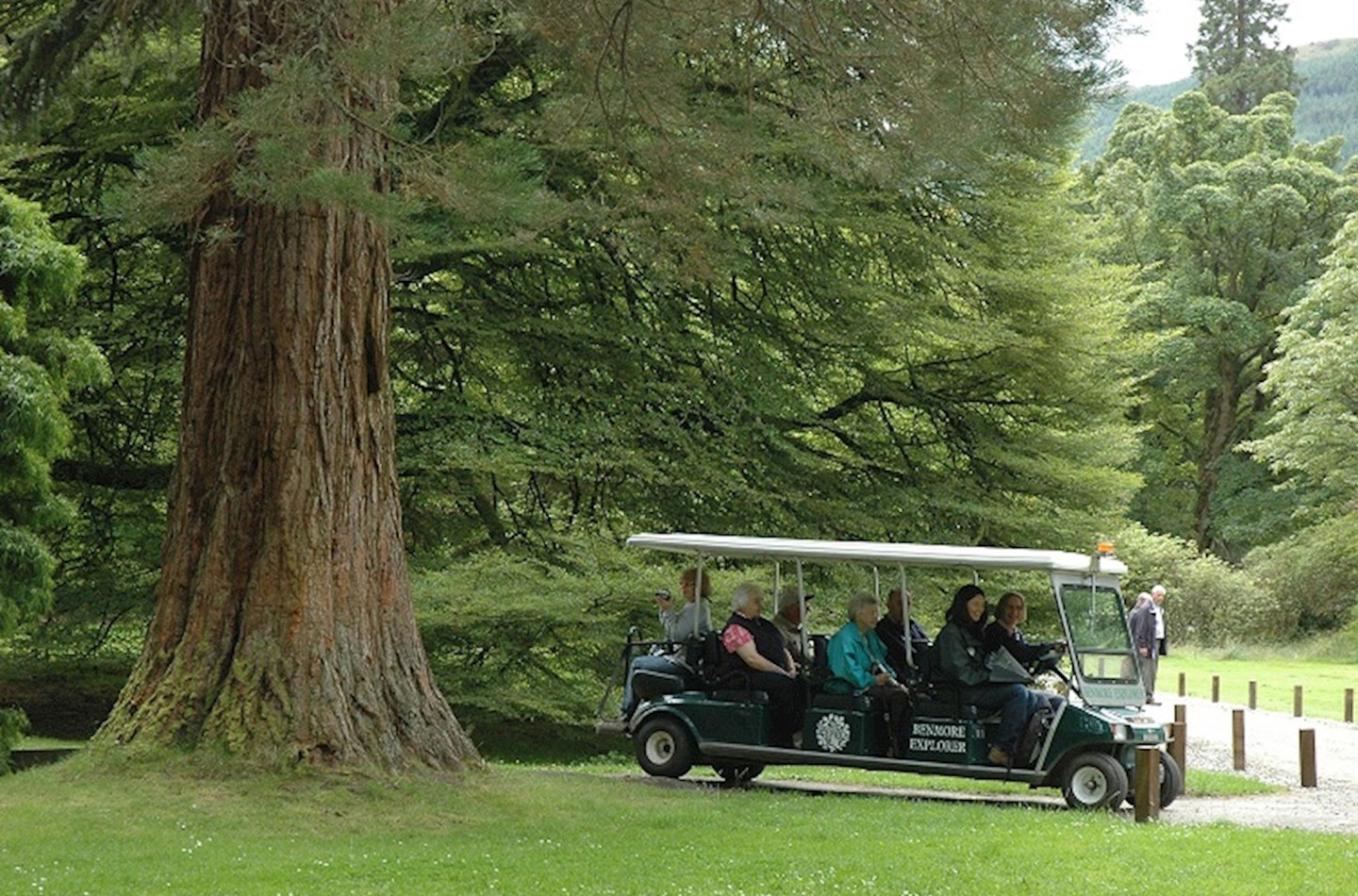 Access
Benmore Botanic Garden welcomes all visitors whatever their specific requirements. There are currently some new health and safety measures in place during this time to protect our visitors as well as some restrictions, outlined below.
We want all visitors to enjoy Benmore and aim to provide the best possible access to everyone in order that they enjoy their visit.

We provide:

An Easy Access Route along low level paths in the Garden.
Accessible toilets at the entrance point and in the Garden.
Benches at regular intervals throughout the Garden.
Water for assistance dogs.
Pen, paper and magnifying glass at our Visitor Welcome desk.
Free entry for carers and children under 16.

Unfortunately, during this time, wheelchair hire is unavailable and tours on the Benmore Explorer vehicle are unavailable for health and safety reasons.  Some areas of the Garden, including the Wildlife & Squirrel Hide, are closed.  Please look out for signage in the Garden for more information.

Download our Access Guide for more information.

 

If you require any further information about specific access or need advice about planning your visit, please contact us on: 01369 706 261 or email us at benmore@rbge.org.uk.

 

 

 
More information
Information on arrival

There is a welcome panel in the car park outside the entrance which gives visual information about the Garden. However, if you have further questions, please just ask at the Reception area beyond. There is a designated route for wheelchair and mobility scooter users. A map is available on arrival with this route clearly marked.

The main route to the Garden is through the visitor centre and there is level access from the car park to the entrance. A welcome panel outside the entrance way provides information about the Garden including the easy access route. The visitor centre entrance door is 850mm clear opening with 1500mm clear spaces opposite the door.

Benmore's visitor centre is accessible to wheelchair users. Inside, you will find an Information Desk, our shop and a café – all on ground level. A warm welcome is guaranteed at the Information Desk where your ticket and Garden Map can be purchased.

Visitors using mobility scooters are recommended to enter the Garden through the gate to the left of the visitor centre entrance which leads you through the plant sales area.

Trails and Tours

Unfortunately, during this time, there are no tours on the Benmore Explorer and no guided tours available. 

Maps and trails are available at the Information Desk. There are also guided tours of the Garden on a regular basis (Tuesdays and Sundays at 14:00 hours). The tours last one hour approximately and we always try to tailor the tour to meet the needs of the group.

Information regarding the Benmore Explorer is also available. The Explorer provides rides around the Garden and up to higher levels for those with mobility needs. Tours aboard the Explorer take place on Wednesdays and Thursdays at 14:00 hours.

The Explorer can accommodate up to seven visitors who have mobility difficulties. Wheelchair users would need to be ambulant in order to transfer onto and use this vehicle. Manual wheelchairs or mobility equipment can be carried on the back of the Explorer with the rear seats folded down.

Garden Entry

There are two ways to access the Garden. The first option, marked on the map as the Easy Access Route, is to approach the Garden from the visitor centre via its café and outdoor plants area. The path to the Garden leads visitors over a small footbridge and towards a metal gate, where you will see the Redwood Avenue beyond.

Manual wheelchair users may require assistance to cross the footbridge over the river as it has a gradient of up to 1:6 on either side. They may also require assistance at the metal gate which leads to the Garden.

The second option, which is a slightly longer route, is accessed via the car park and level entry over the vehicle access bridge, turning right to join the main path to the entrance gate.

The Garden

Benmore is a mountainside Garden spread over two levels – a lower level and up on a mountainside with some particularly steep slopes.

The Easy Access Route, available on the printed map, provides a tour of the lower level of the Garden. This route is way-marked and avoids several slopes. The footpaths are comprised of compacted or loose gravel and are mostly wide and level. A section leading up to Benmore House has a gradient of up to 1:12 and manual wheelchair users may need assistance.

Please note that there are occasional tree roots breaking the surface of some paths, which may require careful negotiation and manual wheelchair users may still require some assistance to negotiate path gradients. Note, that there are also several speed bumps along the Easy Access Route.

The most challenging aspect for any visitor is likely to be the terrain in order to reach the upper level, with gradients on loose surfaces of up to 1:3 leading to the Chilean and Bhutanese pavilions and Wright Smith Memorial Viewpoint and Shelter

Benmore's higher levels are not on the Easy Access Route. There are gradients of up to 1:3 on some footpaths with loose surfaces. Many of the steps leading to the higher levels of the Garden feature a handrail to one side.

A range of bench seating, with and without arm rests, is provided at intervals around the Garden in all locations, offering visitors the opportunity to take a break.

The Pond is set amidst dramatic landscapes and on the Easy Access Route. Manual wheelchair users may need help with thresholds to reach the Pond's viewing stage.

Benmore Courtyard Gallery

Covid-19 update: the Courtyard Gallery is currently closed

Benmore's Courtyard Gallery is used for visitor exhibitions and events. Level access is provided into the cobbled courtyard and the Gallery is approached via a gradiant of up to 1:8 across cobbles.

Approaching the Gallery from the Formal Garden, manual wheelchair users may need assistance at a set of metal gates, and from this direction there is a slight incline on route to the Gallery.

There is a platform lift (or five steps) to the upper level of the Benmore Gallery. There is an accessible toilet beside the courtyard.

Victorian Fernery

Covid-19 update: there is currently a one-way system operating within the Fernery.

The Victorian Fernery is beautifully restored and worth a visit. However, it is not part of the Easy Access Route and there is a gradient of up to 1:4 leading to the entrance steps. There are 44 steps leading to the Fernery with a handrail to one side. There are a further 24 steps within the Fernery. Bench seating is provided inside. Assistance dogs are welcome.

Shop

After your tour of Benmore Botanic Garden, why not visit our shop or plant sales area to select a souvenir before you depart. The shop is located inside the visitor centre and sells a range of gifts and souvenirs.

Features:

Step free access and placement of shop fixtures allows wheelchair users to manoeuvre in the space.
The shop is evenly and well lit.
There is a hearing loop at the till point, a magnifying glass, pen and paper.
Shop staff are always on hand to offer assistance.

Hearing Loops

A permanent Induction Loop is fitted at the reception information desk. Please ask for assistance if you require it.

Mobile Reception and Wifi

Visitors with medical conditions should be aware that mobile signal is extremely limited at Logan but there is some signal in the Garden itself. Currently there is no public access to Wifi. If you require assistance, please ask at the reception.

Accessible Toilet

There is an accessible WC located with other toilets just outside the visitor centre. A horizontal door bar on the hinge side aids closure. The doors to the WC are 170mm clear opening with clear space opposite the door. The floor space is 1500mm x 1200mm and there is 1000mm lateral transfer space to the right beside the WC.

There is also another accessible WC beside the Benmore Courtyard, which is signposted for convenience . The doors to this WC are 930mm minimum clear opening with clear space opposite the doors. The floor space is 1200 x 1200mm and there is 700mm lateral transfer space to the left of the WC. The height of the WC is 420mm to the top of the seat.

Assistance Dogs

Benmore welcomes all assistance dogs. Dog bowls of water are available on request in the restaurant.

A final word about the weather

Please note that in severe weather conditions the Garden closes for safety reasons. You are welcome to call us to check that the Garden is open on 01369 706261. Visitors are recommended to take extra care outside when exposed to weather conditions such as wind and rain.

You can view our full Access Statements here