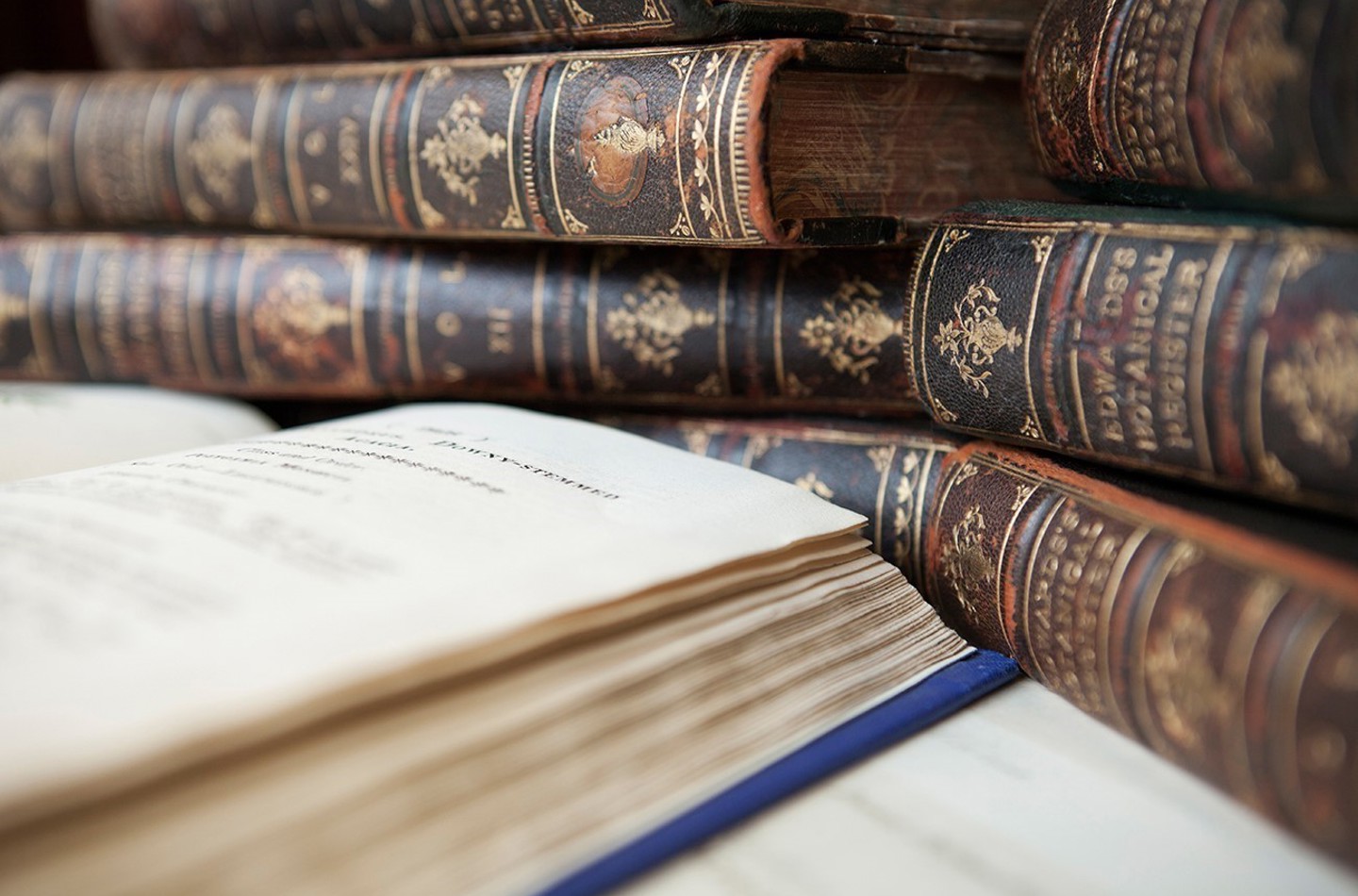 The RBGE Library holds over 1 million items – books, journals, original artworks, maps and much more. As one of Scotland's National Collections, all of these items are available for use by anyone that needs to access them.

Archives - the RBGE Archives holds RBGE's historic records (e.g. correspondence, collecting records, photographs, etc) as well as those of individuals and organisations with a connection to RBGE. The collection also includes papers relating to the development of botanical science and horticulture.

Books - The Library holds over 60,000 books on open shelves which visitors are free to browse. You can find entries for the majority of these items in the Library Catalogue (Koha).

In addition the Library holds a collection of approximately 3,000 rare and special books dating back to the 15th century many of which are now searchable via the Library Catalogue. 

Hortus Sicci - A hortus siccus is an arranged and bound collection of preserved plant material. The RBGE Library holds a collection of bound volumes of this type, the oldest of which dates from 1702.

The collection is searchable via the Library Catalogue (Advanced Search by Item type = Hortus Siccus). 

 

Illustrations - The Library holds a large collection of original artworks, photographic materials, teaching diagrams and published illustrations.

Published illustrations can be found in the Cuttings Collection which contains printed botanical illustrations from a range of journals and books published between 1790 and the  present. The collection is arranged  alphabetically by plant family according to the Bentham and Hooker Classification Scheme  and offers a useful first stop for botanical artists and others interested in the history of plant illustration.

 

Journals - The Library currently receives approximately 300 journal titles by subscription, exchange or gift but it also holds a substantial collection of over 3,500 historic periodicals, covering botanical, horticultural and related subjects. 

Amongst the earliest journals held are volumes of Commentarii de Rebus in Scientia Naturali et Medicina Gestis from the Library of Professor John Hope. This journal, issued from 1752 to 1808, was the first to provide abstracts and summaries of contemporary medical research.

Title level records for journals are included in the Library Catalogue and the quickest way to find them is to use the Advanced Search option and set the search limit to Item Type: Journal.

Maps - This collection is international in scope and includes significant collections of late 19th and early 20th century maps of India and north-west China.

The majority of the maps are physical or topographical but the collection also contains some climatological, phytosociological and geological maps.

Many of the maps relate to scientific and / or plant collecting expeditions by RBGE staff. 

 

Nursery and Seed Catalogues - this collection contains examples of British and international nursery and seed catalogues that were sent to RBGE between 1870 and 1950. A few catalogues published before 1870 have also been added to the collection, mainly through donation.

The collection is searchable via the Library Catalogue. 

 

Reprints and Pamphlets - this collection mainly contains copies of journal articles issued as separate reprints. In addition there are various pamphlets, booklets and some ephemeral items including newspaper cuttings, exhibition catalogues, plant inventories, garden catalogues, research notes, single issues of magazines and official reports.

There is a card catalogue for the collection and if you think we may hold a copy of something you are looking for, please contact us (using the form below) to request a catalogue check.

 

Theses - the Library holds dissertations and theses produced by RBGE students enrolled on the following courses of study:

Diploma in Amenity and Ornamental Horticulture (D.H.E.), awarded by the Royal Botanic Garden Edinburgh, 1966-1994
HND in Horticulture with Plantsmanship, awarded by the Royal Botanic Garden Edinburgh and SRUC (previously SAC). Specialist Projects, 2006-
B.Sc. (Honours) in Horticulture with Plantsmanship, awarded by the Royal Botanic Garden Edinburgh and the University of Glasgow, 2008-
M.Sc. in Biodiversity and Taxonomy of Plants, awarded by the University of Edinburgh and the Royal Botanic Garden Edinburgh, 1993-

The Library also holds a large number of PhD theses, including many written by current and former members of staff. These are all listed on the Library Catalogue and can be found using the Advanced Search and limiting your search by Item Type.

 

Contact the Library and Archives

To book a visit or if you have any queries relating to the Library or Archives please get in touch using this form

Contact Us