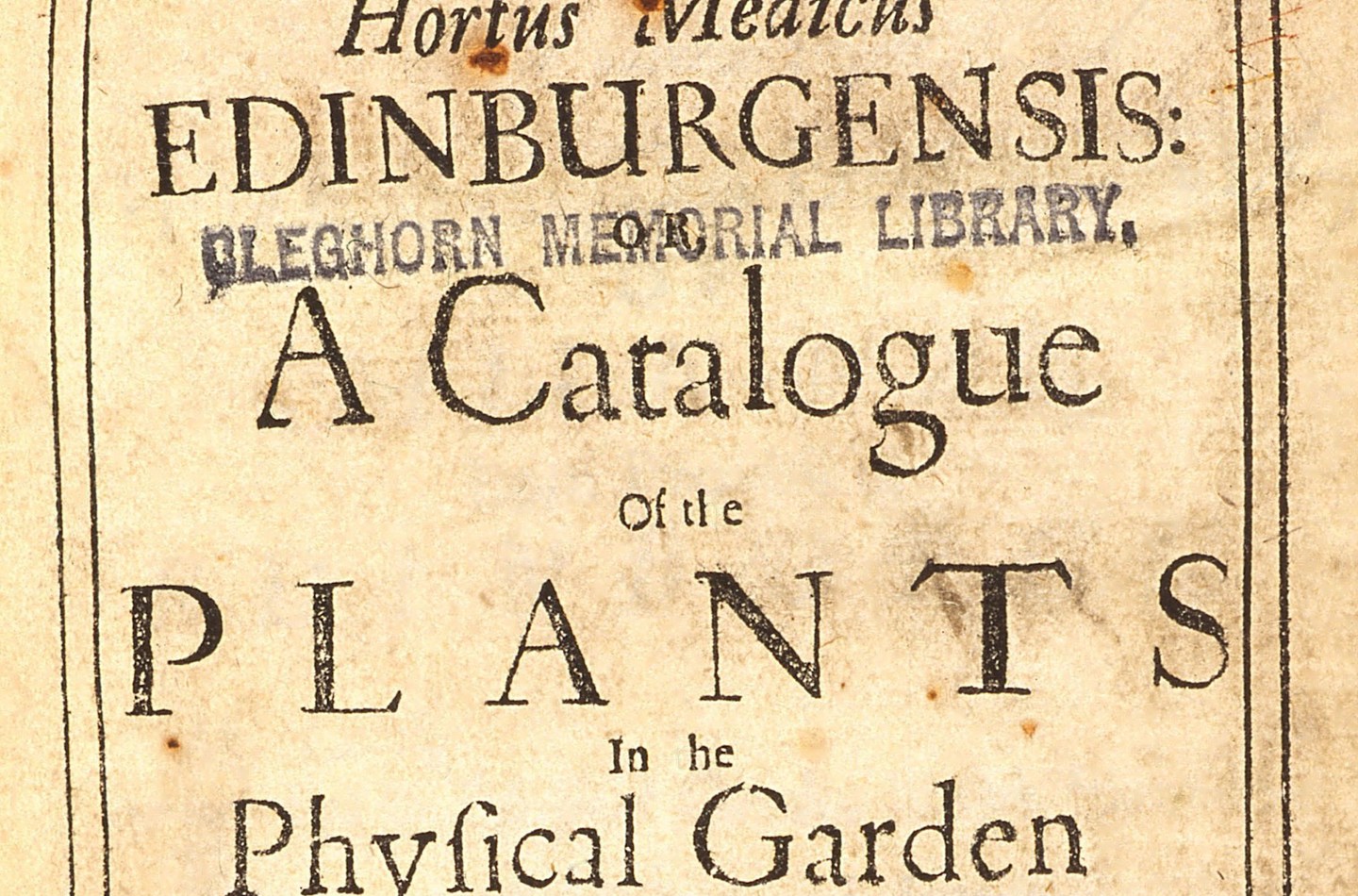 The Catalogue of Plants 2021
The Catalogue of Plants provides information on the plants growing in the Gardens and Glasshouses of the Royal Botanic Garden Edinburgh.

The Catalogue of Plants 2021 is a list of these plants on 1 January 2021. This page brings together the 'vital statistics' of the collections in the Overview and lots of information about how the collections are developed and used. Click on the sections below to read more. You can download and interrogate the list.

It is important to note that a catalogue of any living collection is subject to change. Staff are working daily to care for the plants. Part of that work involves updating the records, whether relating to the health of the plant, its name, or the numbers of specimens planted.

The first catalogue of RBGE (the Garden was not known by this name at the time) was James Sutherland's Hortus Medicus Edinburgensis, also titled A catalogue of the plants in the Physical Garden at Edinburgh : containing their most proper Latin and English names; with an English alphabetical index. It is listed as printed by 'heir of Andrew Anderson' in Edinburgh in 1683. This one in 2021 is presented differently, but its purpose is the same: it provides an accurate representation of the four Gardens of RBGE at this moment in time, and the information is used to drive policy decisions and resource allocation.

Although it is simply not possible to capture the diversity and beauty of RBGE's Living Collection in a set of electronic documents, this Catalogue is intended to be used as a tool for accessing our collection and ensuring it can be used by all for the benefit of all. All pdfs in the links below are accessible to readers using document accessibility software.

The Living Collection

11,371 species
2553 genera
302 families
200,696 plants

Search the online database

 
Further information
Foreword and Overview

Read the Foreword to the Catalogue of Plants 2021 by Kevin Reid, Director of Horticulture and Learning, and a statistical overview of RBGE's collections (pdf). The Overview contains information on the taxonomic system followed and meteorological data on the four gardens. It also provides breakdowns of the collection by family and genus, by country of origin, wild vs garden origin and cultivars, rates of verification, and the threat status of the collection by threat level.

 

 

The Catalogue

Here is the Catalogue of Plants growing in the four gardens on 1 January 2021 (excel spreadsheet). 

 

Landscapes of the four Gardens

Read about the developments in the landscapes of the four Gardens in recent years (pdf), written by the Curators of all the gardens and other staff.

Care of the Collections

Curation of the Collections

Read about the curation of a large living collection of plants (pdf).

The Research Collections

Read about how some of the collections in large genera and groups contribute to research carried out in RBGE with global collaborators (pdf).

Appendices

A table of plant families showing RBGE collections compared with their occurrence worldwide are given in Appendix 1 (pdf).

Appendix 2 lists all the fieldwork acronyms in the plant records database, along with the names of the people who participated in those trips (pdf).