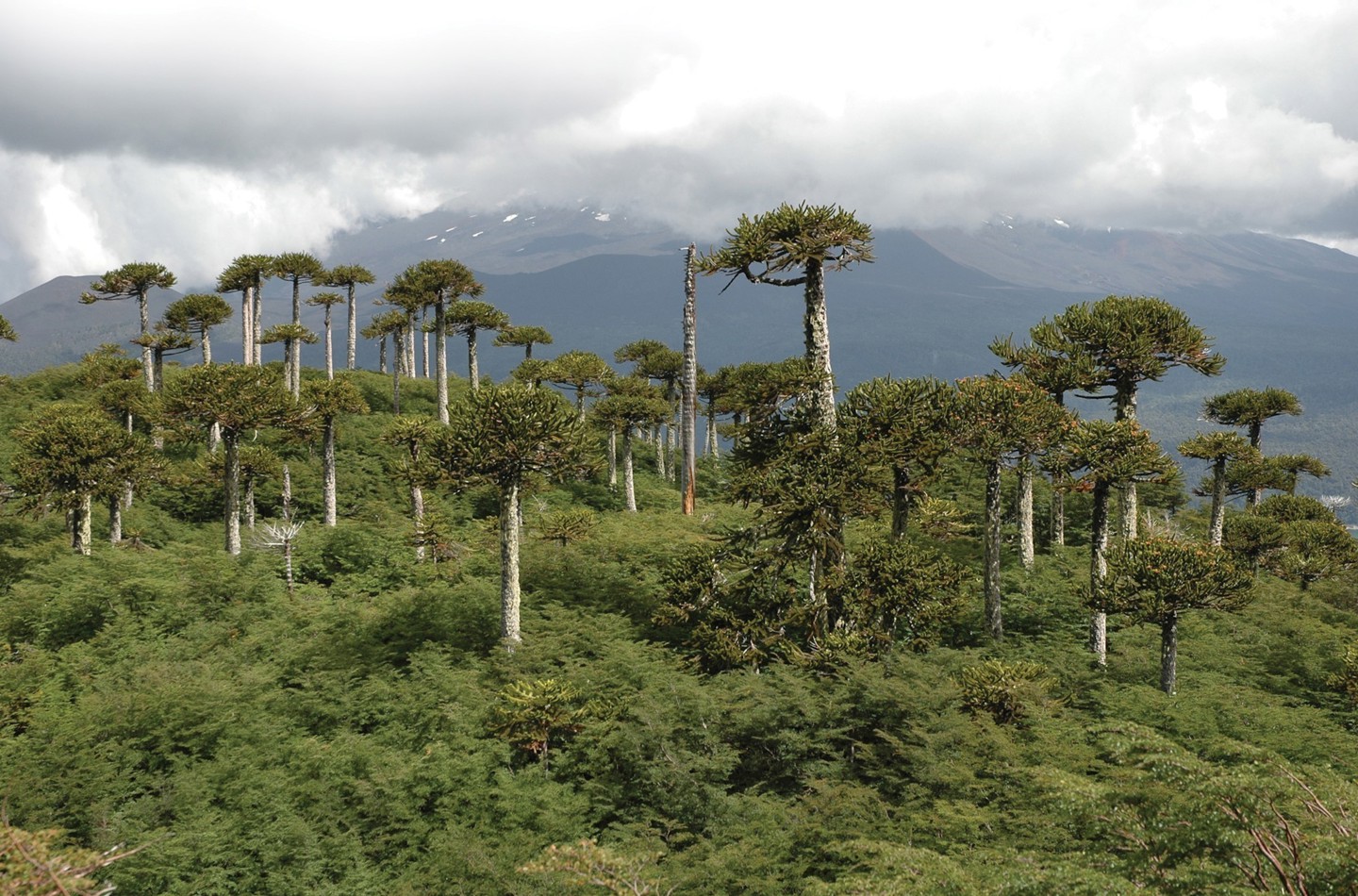 The Living Collection at Benmore
Benmore is a unique mountainside garden, steeped in history, with precious collections of samples of the world's heritage, from the USA, Tasmania, Bhutan, Japan and Chile.

  
Giants of Benmore
The Redwood Avenue, planted in 1863, provides one of the best entrances to any botanic garden in the world. The Sequoiadendron giganteum are now 50 m high but mere youngsters at 150 years old. The oldest known giant redwood reached 3,500 years according to the ring count. In their native California, giant redwoods tend to grow in groves. Redwood avenues became a 19th-century status symbol after the trees were discovered high in the Sierra Nevada during the 1849 Gold Rush. Seed was introduced into Britain by the Cornish plant explorer William Lobb.
Even taller than giant redwoods in the wild, the world's tallest temperate tree is the coastal redwood, Sequoia sempervirens, native to a narrow coastal belt in California where some trees grow to more than 110 m in height. A specimen planted at Bemore in 1872 now stands 43.5 m high.
It is fitting that Benmore's tallest tree is a Douglas fir (Pseudotsuga menziesii), named in honour of two famous Scottish explorers David Douglas and Archibald Menzies. Many of Benmore's great conifers were introduced to Scotland by Douglas, providing seeds for Scotland's forestry plantations. The tree, planted in the 1870s, is 57 m tall and can be found in Glen Massan Arboretum between the foot of the Bhutanese Glad and Chilean Rainforest Glade.
Conifers are not the only record-breakers in the Garden. The Chilean Nothofagus betuloides and New Zealand's black beech Nothofagus solandri are two of the largest in Britain.
The Garden's finest western hemlock (Tsuga heterophylla) is possibly the tallest specimen in Britain at over 51 m. This one, to the west of Benmore House, was planted in the 1870s.
The oldest Scots pines (Pinus sylvestris) have been growing in Golden Gates Avenue in Glen Massan Arboretum since 1820. Spreading from the Arctic Circle to southern Spain, Scots pines are one of only three conifers (the others are yew and juniper) native to Scotland, where they occur naturally in the Highlands.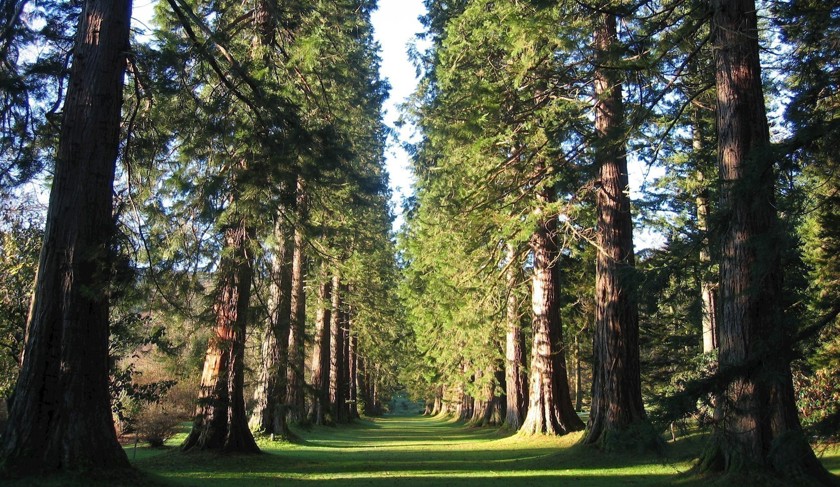 A riot of rhododendrons
With more than 3,000 plants of around 300 species, arranged by botanical grouping or geographic origin, Benmore has been described as a "living textbook of the genus Rhododendron.

This flambuoyant plant group blooms in succession, showing off their most spectacular colours and delicate scents in April and May. The flowering season can be short but the interest continues all year round with striking bark and varied foliage. R. barbatum has plum-coloured peeling bark and bristly hairs on the stalks of its leaves. The large-leaved rhododendrons, such as those of subsection Grande, have huge, glossy green leaves. R. schlippenbachii brings surprise autumn colour when its whorls of spoon-shaped leaves turn to rich yellow and red.
Rhododendrons are an integral part of Benmore's history - the main reason for RBGE needing a west coast garden. In the 1920s and 1930s hundreds of rhododendrons were grown in the Edinburgh nursery and then transferred to the wild, wet mountainside in Argyll where the collection flourished.
One of the favourites at Benmore is a mighty R. sinogrande, a magnificent species discovered by George Forrest in China in 1912. It has grown to a stately size, its canopy flowing with huge trusses of creamy-yellow flowers in April.
Among new arrivals at Benmore are 28 young plants of R. sinogrande, collected from the Gaoligong Shan mountains on the border of China and Burma.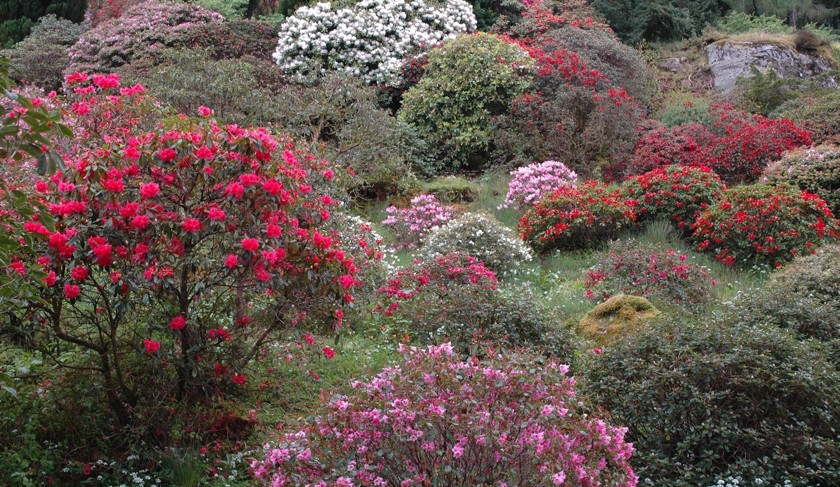 The Tasmanian Ridge
In the mid 1980s a steep slope above the Benmore Fernery was cleared and planted with young trees grown from seed collected by RBGE staff: Tasmanian cedars (Athrotaxis laxifolia, A. cupressoides, A. selaginoides), chestnut pine (Diselma archeri), and the extraordinary Huon pine (Lagarostrobos franklinii).
The Tasmanian Ridge has spread down the hillside to make room for young plants grown from seed collected during an RBGE expedition to Tasmania in 2005. It will take time for the new southern beech, eucalyptus and tree ferns to evoke a Tasmanian landscape but there is still lots to discover. Look out for rare flowering plants such as crimson bottle brush callistemons, white eucryphias and the rare iris-like Diplarrhena which began life as tiny seeds on a moist stream bank half a world away.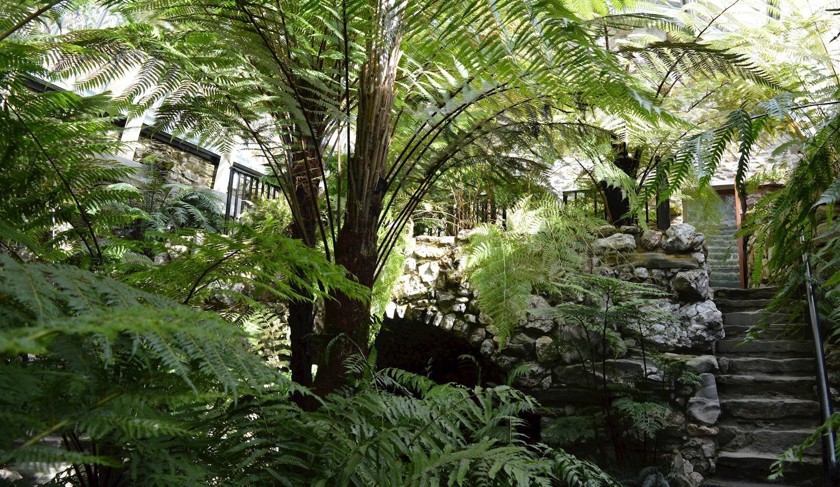 The Bhutanese Glade
Visitors to Benmore can undertake their own expedition to Bhutan, experiencing the changing plantlife as they climb through five different vegetation zones. This area of the Garden highlights Bhutan's flora, from rhododendrons, firs and birches to the juniper scrub of the high mountains,
Planting the Bhutanese Glade began in 1989, using seed collected on expeditions in Bhutan, and a second phase of planting in 2001 added a new generation of trees and shrubs as well as herbaceous perennials on the woodland floor.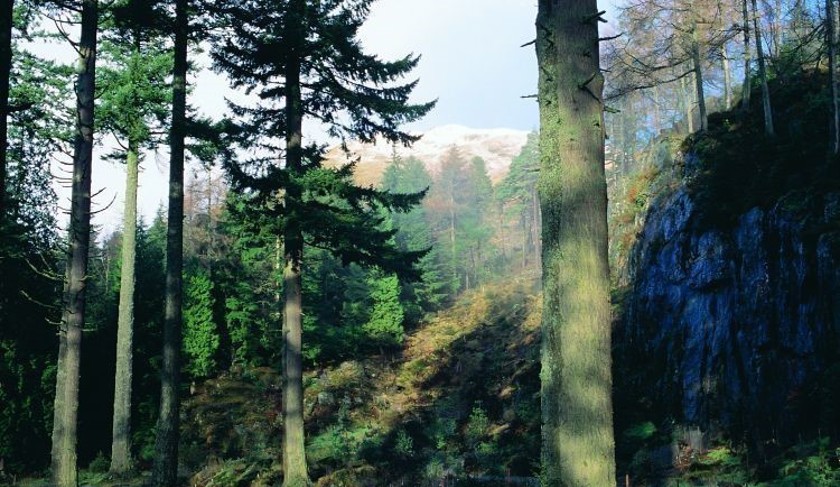 The Chilean Rainforest
The Chilean fire bush (Embothrium coccineum ) provides flashes of colour on the Benmore hillside in late May and June. And although it will be a few years before the monkey puzzles (Araucaria araucana) are tall enough to dominate the skyline, already the young trees are developing a character of their own. Along with other Chilean plants - Pilgerodendron, Fitzroya, Nothofagus, Drimys - they give a glimpse of the mountains of Chile.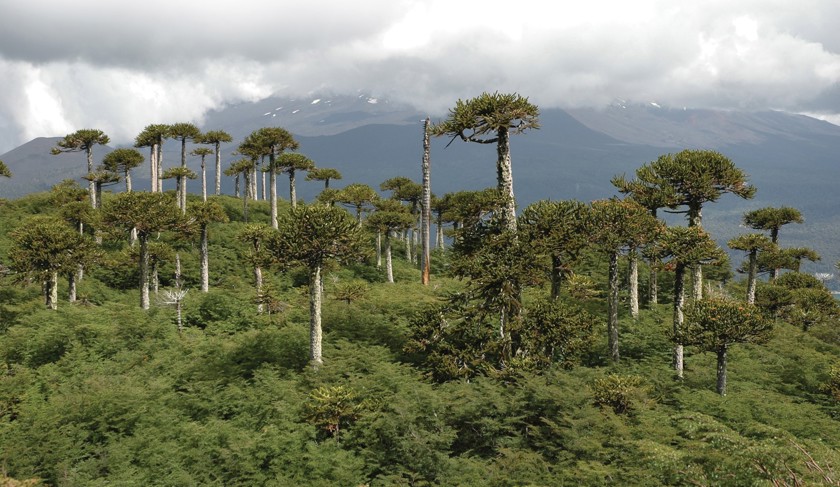 The Japanese Valley
To create a Japanese mountainside, a site was chosen in the Massan Valley. A glade of Japanese cedars (Cryptomeria japonica) had been planted here in the 1970s and were well-established trees by 2005. During the following two winters, hundreds of Japanese trees and shrubs were planted on the precariously steep slopes. These plantings are still young and small, but they give a taste of future promise. Young maples, including Acer rufinerve and A. capillipes, will one day bring glorious autumn colour to this area of the Garden. Spindly birches will become elegant trees with shining, peeling bark, including Betula maximowicziana, one of the largest-leaved birches.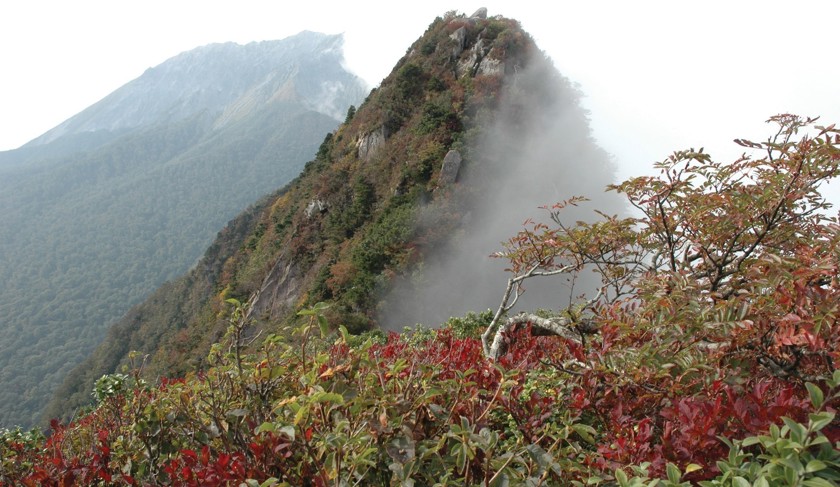 Native Woodland Area
This area was created to draw attention to mosses, lichens and ferns. Lower plants are colonising the site. See ferns and fungi sprouting from fallen logs and stumps. The highest branches of the broadleaves are sprouting ferns and festooned with lichens.
Native American spruces and Himalayan birches alike are claimed by native bryophytes. New arrivals from around the world are soon colonised so they look at home in Scotland's own rainforest.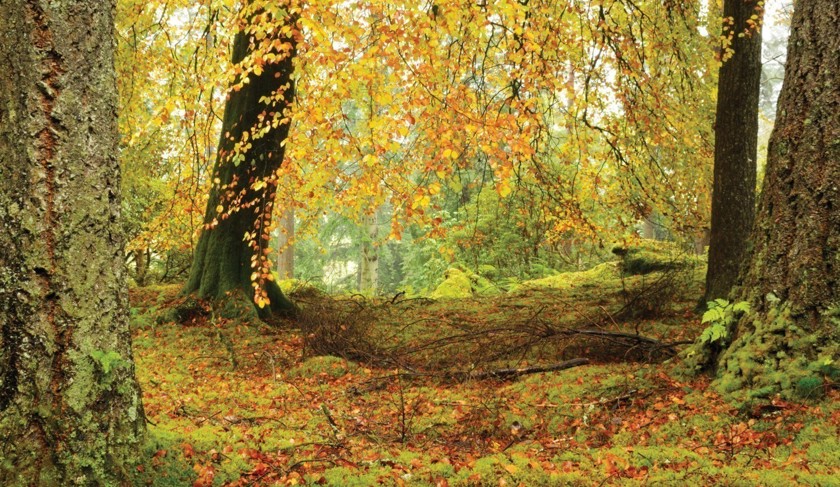 The Benmore Fernery
The restored Victorian Fernery is an enchanted world where an ancient family of plants flourishes. Ferns are everywhere sprouting from the rocks in delicate feathery fountains, creeping along the ground and cascading down the walls. Tree ferns tower above, broad fronds reaching up to the high vaulted roof.
Nestled in a shaded cleft in the hillside, the Fernery has been landscaped inside and out with a range of native and exotic ferns. It has also been identified as an ideal site for the cultivation of Trichomanes speciosum, the Killarney fern, one of Britain's most rare species, protected under UK and European legislation. Other endangered native species are also being cultivated to highlight general issues of plant and habitat conservation.