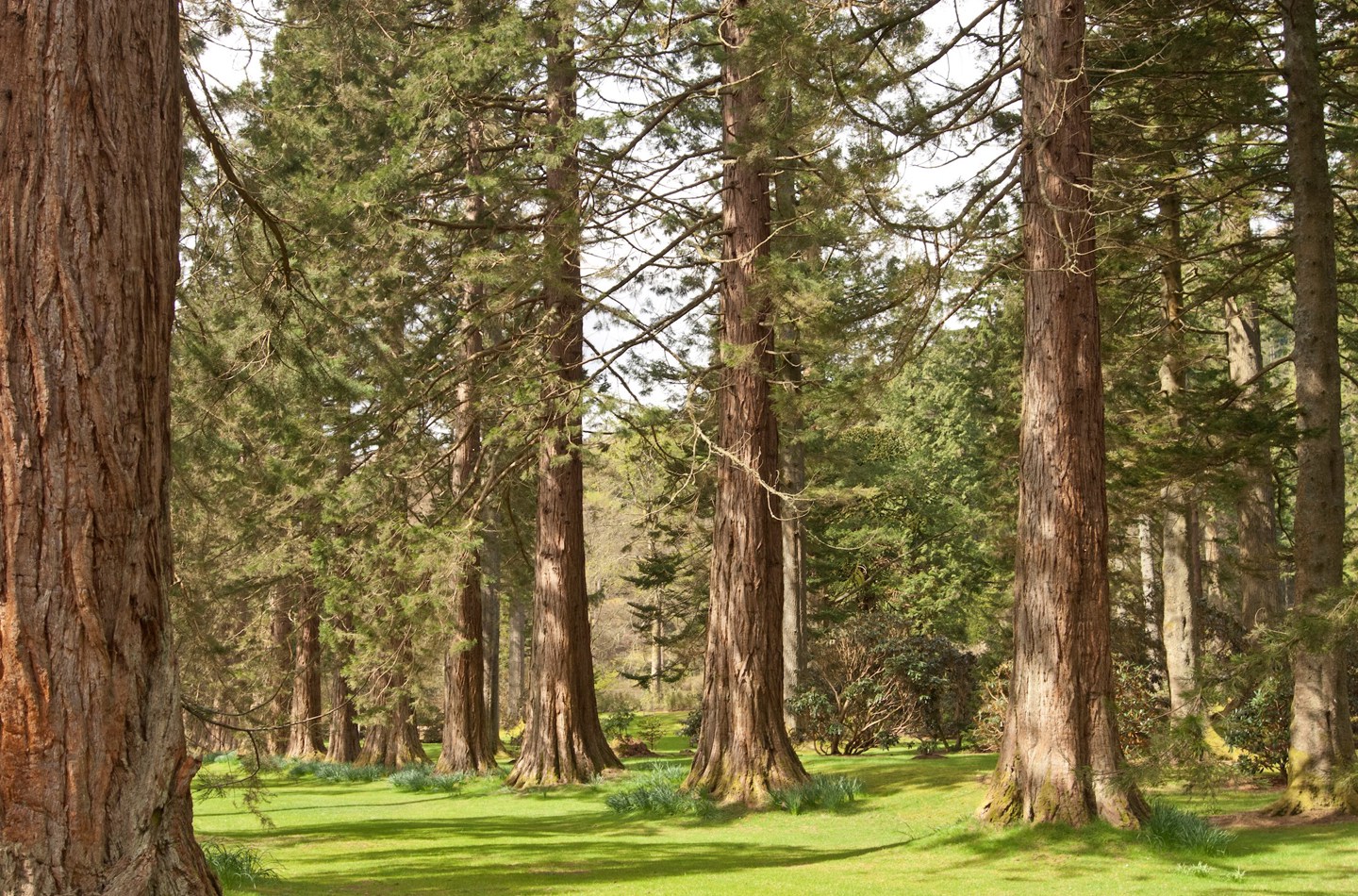 As Benmore Botanic Garden undertakes critical work to help safeguard its historic Giant Redwood (Sequoiadendron giganteum) Avenue, we are taking a moment to reflect on what has been achieved so far, and the support that has made this possible.

Described as one of the finest entrances to a botanical garden anywhere in the world, the magnificent Redwood Avenue at Benmore Botanic Garden, on Scotland's west coast, is in desperate need of innovative actions or risks being lost to the nation through climate change and disease.

Planted in 1863 by the wealthy American James Piers Patrick, it lined the original driveway to Benmore House. These trees (Sequioadendron giganteum), native to California, were among the earliest to reach British shores when the species had only just been introduced to the outside world, making Benmore's redwoods some of Europe's oldest and tallest, reaching up more than 50m high.

However, due to a combination of soil compaction and increased rainfall in recent years, trees are showing signs that they are merely existing rather than growing. Benmore's Curator Peter Baxter observed, 'Their crowns are thinning and many lower branches are completely defoliated'. The situation is expected to worsen, with models from the UK Met Office anticipating increased rainfall and more intense storms in the region in future years, so work has begun to urgently address these issues.

Thanks to the generous support of our donors, as well as grants from The Younger (Benmore) Trust, Loch Lomond & the Trossachs National Park Authority, the Brown Forbes Memorial Fund, and Scotland-based branches of Soroptimists International, we have been able to thoroughly assess the existing damage and are now progressing through a crucial multi-year geo-injection and air-lancing project to benefit the long-term health of the Avenue.


Since February 2021, the team has achieved an impressive 7,250 square metres of geo-injection, to decompact soil, improve drainage and stimulate root growth, and have undertaken a programme of air-lancing, mulching and organic bio-stimulation to encourage the nutrient uptake of the trees. 


We now look forward to continuing this work and progressing to the next phase of the project which will include the construction of a new central drainage raft. This raft, which will run along the entire grassed length of the Avenue, will allow visitors to safely admire Benmore's stunning Redwoods from centre of the Avenue without risking further compaction to the soil. 

Every donation we receive is greatly appreciated and a gift of any size will support this vital remedial work. Please consider giving a donation to safeguard Benmore's iconic Sequoia Avenue for generations to come.

Donate to the Benmore Sequoia Appeal

'Benmore Botanic Garden is very special place that our family has enjoyed for many years, with the most beautiful collection of plants and trees. Today, the Redwood Avenue, planted over 150 years ago is threatened and we risk losing these magnificent trees to the effects of climate change.  All is not lost though, and with the help of science we can save this precious part of our natural heritage. By donating to the Benmore Avenue Project, you can help support vital horticultural interventions that will improve the health of these endangered trees, and ensure that they stand for many more centuries to come'.

- Emma Thompson & Greg Wise

'Carrying out the programme of geo injection and air lance work requires a massive team effort from the Benmore horticulturists. With increased and heavier rainfall in recent years, this work is all the more vital.'

- Peter Baxter, Curator, Benmore Botanic Garden

Donate to the Benmore Sequoia Appeal
Find out more about the Geo-Injection Program
Tree and Soil Health Report

Our geo-injection programme aims to achieve decompaction of soils, improve drainage and stimulate root growth in Benmore's sequoias to encourage greater nutrient uptake.

In the first phase the project, a tree and soil health report was conducted by external consultants. To compile the report, they collected soil samples from various locations along the entire length of the avenue for laboratory analysis of macro and micro nutrient content, bulk density, moisture content, pH and organic matter content. Bark, twig and foliage samples were also taken, and comparisons were made between the growing conditions of Benmore's Avenue and native Sequoia habitats in California.

Soil analysis results were variable across the site but generally appeared to be high in Iron, optimal in Phosphorous and either deficient or moderate in Potassium, Magnesium, Calcium, Manganese, Copper, Zinc and Boron. Soil bulk density results showed that the soils were compacted, leading to limited oxygen and nutrient availability and increasing the resistance to root growth. This was determined to be a likely contributing factor in the visually apparent physiological stress of the trees.

Equipment and Materials

In order to enable the team and Benmore to undertake their vital remedial work, various items and materials needed to be purchased including:

a compressor
a geo-injector
an injector air and product mixing unit
an air-lance
650 cubic meters of composted fine bark
54,000 litres of perlite
800 kilograms of bio stimulant
6,000 kilograms of rootzone dried sand topdressing

Geo-Injection

The team at Benmore have achieved an impressive 7,250 square feet of geo-injection, equivalent to the area of the entire length of the Avenue. The programme of injecting perlite into the soil and filling the holes with rootzone dry sand will aid soil decompaction, improve drainage and stimulate root growth, resulting in improved growing conditions for the sequoias.

Air Lancing and Mulching

The geo-injection programme will be followed by a programme of air lancing and mulching over an area of 6,300 square metres. Air lancing will de-compact the surface layers of the soil and help create an open tilth which will then be mulched.

The final part of the process will be to add an organic bio stimulant to the mulched areas once the soil temperatures are above 10°C. The bio stimulant will help microbial activity in the soil, which will in turn help release existing nutrients for uptake by the tree roots.