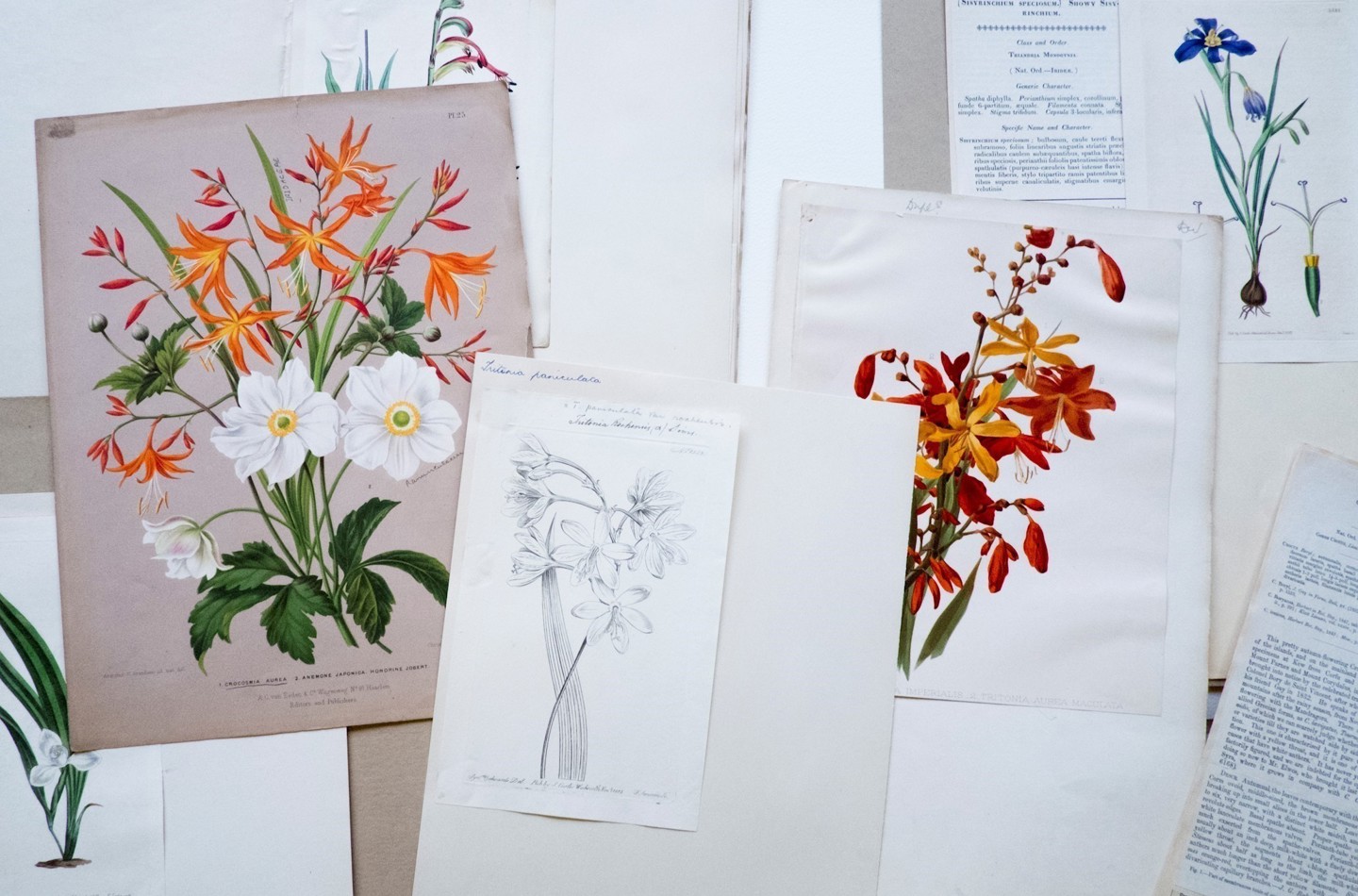 Artists in the Florilegium
The artists from around the world that are represented in the Florilegium have demonstrated an exceptionally high level of skill, creating botanically accurate illustrations as assessed by the RBGE panel of experts.
Natalia Alatortseva

I draw plants because I consider them an important part of space for life. In artworks I want to precisely convey the features and details, I want the drawing to reflect a living plant. As a botanist, I have been studying some plants' ontogeny and population structure. Certain plant's morphology can tell a story of its life and surrounding and it is my interest see and tell such stories. My interest to plants covers different groups of them, mostly biologically unusual or plants, which have impressed me. Mostly I draw wild species at different nature conditions or botanical gardens.

The portraits of plants are like a portals to the world where they are alive even in winter, they are soothing and endless, one tree can be a reflection of the whole world and whole life. Art Nouveau was a period of impressive attention and reforming of plant character and now it is interesting for me to dive into it and to seek its forms in my beloved plants.

The traditional way of using white paper and various colouring agents - watercolour, ink, graphite, their lightness and mobility seems to me more corresponding to plants nature than other materials.

Julia Asenbaum

As far as I can remember I have been obsessed with the complexity and beauty of the natural world and I always wanted to capture it. Isn't it just fascinating how evolution can produce such wonderful colours and shapes, all defined by their function?

At the age of four I was certain I want to be a biologist and while others dressed up as witches or wizards I dressed up as a red blood cell. Like every child I loved to draw and paint but this interest just never left me.

"Botany is the science of beauty"-Sir Joseph Paxton (1803-1865) 

I studied plant science at the University of Vienna. After receiving my MSc I founded the Fragrantarium - Olfactory Realism, Art, Science and Conservation, in which I  capture the scent surrounding living plants through my perfumes and their beautiful shapes through my paintings.

I started my diploma in Botanical Illustration at the Royal Botanic Garden Edinburgh in 2018. The first time showing my botanical art was at the Plantae 2019 at Mall Galleries in London, where I was awarded the Artist and Illustrators prize by the SBA.

I am fascinated with form and function and love the weird and wonderful, that can be found in every organism. I hope that I can share my fascination with the natural world and that my paintings motivate others, to have a closer look at the world surrounding us, because it always reveals little wonders.

Jenny Bache (Usher)

Born in 1957 I was raised in Cambridge, Nigeria and Aberdeen. I trained as a primary school teacher at Aberdeen College of Education (1974 -77). In 1975 I married Colin Usher and together we moved to Oldham and then West Kirby, Wirral, where we still live with our four children in an award winning Ecohouse, designed by my architect husband. I trained as a Reading Recovery teacher and taught at various schools in Wirral from 1995 to 2019 and from 2000 onwards I have created and designed craft for a local toddler group.

I sold flower paintings through Dee Fine Arts gallery in 1990. I completed the Certificate in Botanical Illustration at RBGE in 2015, followed by the Diploma in 2018.

I exhibited at West Kirby Art Centre in January 2019 and at the Wirral Open Studio Tour in June 2019.

I have always been interested in plants, and at 11 years old my favourite solitary pastime was drawing plants from the woods behind my home in Aberdeenshire. However, I trained as a teacher, had 4 children …. life happened. Through these years I occasionally had time to draw and paint, preferring fungi, flowers and plants above anything else. Then I discovered Royal Botanic Garden Edinburgh's course in Botanical Illustration and realised I needed to be serious about making time for what I have always wanted to do. I have been delighted to spend the last three years focused on completing a Diploma in Botanical Illustration, learning more about the botany and ecology of plants as well as how to paint them. At last my new career is taking shape, and I am enjoying observing and illustrating wonderful plants.

My work is mostly closely observed, to scale, illustrations of plants. I mainly work in watercolour, layering washes to produce depth of colour and fine detail. I also work with coloured pencils, pen and ink, occasionally using acrylic when I need a painting to have dramatic impact, rather than detail.

Works in the RBGE Collection:

Claire Banks

Rattikorn Bunprakasit

As a new practitioner in botanical scientific illustration, learning by doing and to meet this level of professional standard is my aim for improving my illustration skills.

Special thank to my teacher, Sansanee Deekrajang, who encouraged and advised me experiencing  this excited project. 

Psilotum is rare but fortunately Mr. Chaimongkol Champrasert, the face book group leader of Psilotum Lover in Thailand, kindly gave me his living specimen for my first opportunity to participate in this special Florilegium 2020 project.

Giovanni Cera

Giovanni Cera doesn't expect economic benefits by dedicating to doing botanical art, but he gets satisfaction on searching for plants of spontaneous flora and of course on painting them. He is too interested in studying the geometrical shapes and structures of plants, trying to illustrate in a simple way the laws that regulate their accretion and consequently gets satisfaction when understood and solved graphically the problem.

Giovanni studies to arrange his subjects in a pleasant composition, with respect of the geometry of the lights and the shadows; his works could be described as "botanical illustrations in a prepared balanced composition".

An Chin Chen

I am used to be a successful management consultant and company entrepreneur for more than 20 years. When I was in an adventure trip to Amazon rainforest in 2015, I immediately fall in love with those tropical plants and started to illustrate them precisely. Then I discovered more and more about botanical art on history, works and artists afterward. With supports from a local greenhouse owner, I have so many plant materials to practice and improve techniques very quickly by self-teaching during 2015 to 2018.

Margaret Mee is the botanical artist I admire the most. Not only because of the perfect and stunning works, and wonderful and supplicated techniques, the most importantly, I sympathize her strong will to protect the ecology of Amazon rainforest from fire and choppers by the painting brushes. I decided to follow her- as the combination of art and science, tells the language and stories about pure life and energy, botanical art, which is time-extensional and mindful. I also believe that botanical art brings therapy power to people by closed observation of plants and learning from nature. Therefore, I entirely left my business job in order to become a fulltime botanical artist in 2019.

During the exploration, I found that botanical art is something people not familiar in my home country Taiwan. Then I start to instruct people to enter this art field by teaching not only techniques but also history, plant morphology and art therapy. I founded Botanical Artist Association Taiwan in 2016 for continuous development.

Paresh Churi

Paresh, a graduate in Economics with Statistics ,  is a Naturalist, Wildlife and Botanical Artist, from Mumbai, India. Working as the Director of Breathingroots Pvt. Ltd, a start-up focusing on Urban Agriculture and Environmental Conservation.

In his research on Indian butterflies and photo documentation studies of the largest number of larval host plants and their Lepidopteran relationships and preferences, early stages, ecology and habitats. Most of his information is shared freely for education purposes on many leading websites, biodiversity portals, books and newspapers. In his quest for art and conservation, he has travelled many states of India. He has published several technical research papers; some of them are well cited internationally and acknowledged through peer reviews.

Paresh works with different media like Watercolors, Oils, Metallic pencils, Charcoal Pencils, Ink & Pen, and Natural Pigments.  He has worked as an Illustrator for an educational app on Human Anatomy and his scientific and entomological illustrations are published in science magazines, videos and several reputed scientific journals.

Jessica Daigle

I am a classically trained artist, who earned my Bachelor of Fine Arts degree from The University of Connecticut, with a concentration in Illustration, in 2011.

Working with scientists from; The University of Connecticut, Penn State University, Brown University, and The California Academy of Science, I have created illustrations for various scientific publications and textbooks.

As a Freelance Illustrator, I use a variety of mediums including ink, graphite, watercolor, and oils that best expresses the nature and essence of my subjects. Prior to my freelance work, I managed a team of Graphic Designers for a major audiobook publishing company, where I received an
Audie Award for Excellence in Design, from the Audio Publishers Association, in 2017.

Sansanee Deekrajang

I was born in Bangkok, Thailand on the 27th June 1980. I undertook a Vocational Certificate, College of Fine Art Bangkok (Major - fine art), followed by a High Vocational Certificate (Major - interior design) and a Bachelors degree in Applied Art (major - printmaking) at Silapakorn University. Bangkok.

I am self-taught on botanical painting, adapted with art skills and curious mind about plants and nature forms.

I have exhibited works at the following meetings / exhibitions:

Margaret Flockton Award, Sydney, Australia. Submissions 2012, 2013, 2014
Focus on Nature 2012, New York State Museum, Albany New York. USA
RHS exhibition 2013, silver medal, London England
RHS exhibition 2014 silver gilt medal, London, England
RHS exhibition 2016 gold medal, London, England
BISCOT, Edinburgh exhibition 2013 silver gilt medal
BISCOT, Edinburgh exhibition 2016 gold medal
Botanical Art world wide Exhibition: The flora of Thailand, 2018

Works in the RBGE Collection:

Sandra Doyle

My love of contemplating and drawing the flora and fauna of the Dorsetshire countryside, where I grew up, eventually led me to become a Scientific Illustrator.  I have a particular fondness for field guides and anatomical illustrations, getting to know my subjects both inside and out.

I am a volunteer in the Insects Division of the Department of  Life Sciences in the Natural History Museum, London, where I am curating the British & Irish Adelidae Collection.

I am a member of ABBA, the Association of British Botanical Artists & Fellow of the Zoological Society of London, where I have been helping to digitize the historic photograph collection of F.W. Bond (1887-1942).

Janet Dyer

From a very early age I was introduced to plants by my grandfather, a gardener at one time, of an Oxford college. Botany and botanical illustration became my passion. 

I was fortunate to obtain work in the Forest Botany Herbarium of the University where I was able to follow my dream, encouraged and trained by the botanists and often taken to Kew and British Museum to meet famous plant illustrators.  I was further inspired by the amazing original paintings in watercolour of the great masters Ferdinand Bauer  (Flora Graeca ) and Arthur Church which were easily accessible at that time in the Botany library at Oxford where I worked. 

I began to work in watercolour. Working for the botanists  I illustrated mostly Tropical Floras and many publications in line drawing for ten years.   On moving to Edinburgh I continued to illustrate both for the Oxford botanists and for the RBGE Flora of Turkey Vol. 1 & 2 and many other botanical journals, also exhibiting in exhibitions. 

Since graduating in the Diploma of Botanical illustration at the RBGE  late in life I have continued to enjoy painting  and exhibiting in watercolour and line and I am  fascinated and challenged by new ways of portraying plant life.

Gülnur Ekşi

I was born in Sinop, Turkey in 1981 and graduated with a biology degree from the University of Hacettepe in 2004. I am currently researching the genus Allium L. for myPhD at the University of Ankara.

My formal training in botanical art came from Christabel King and I am now a fully established botanical artist working on a wide range of projects including the new Flora of Turkey. Since 2007, I have been a visiting botanical artist to the Royal Botanic Garden Edinburgh and I regularly exhibit paintings at BISCOT (Botanical Images Scotia), Edinburgh and at the RHS Botanical Art Show in London where my work has been rewarded with Gold Medals. 

Works in the RBGE Collection:

Akiko Enokido

Akiko Enokido completed the "Botanical Art and Illustration" certificate course at The New York Botanical Garden in 2004. In 2005, she moved to southern California with her family and started to work  there as a botanical artist with Botanical Artist Guild of Southern California. During this time, she was able to learn from Jenny Phillips from Australia, Pandora Sellars from England and other well-known international botanical artists.

She exhibited her work in various exhibition, including HSNY / ASBA International Exhibition, 13th International Exhibition at Hunt Institute for Botanical Documentation, and ASBA Triennial Exhibition.

After returning to Japan in 2012, she started to paint the series of "Classical Camellia Japonica ". This series of work was awarded the Gold Medal at London Royal Horticultural Society show in 2016. Also in 2016, her original artworks of 3 native plants in Japan were exhibited at "Flora Japonica" exhibition at Shirley Sherwood Gallery in Kew Garden, UK. During her stay in the UK, she conducted a workshop at the Royal Botanic Garden Edinburgh.

She is now an active artist at JABI (Japanese Association of Botanical Illustration). In 2018, she organized a worldwide exhibition for botanical artists, which benefited from her network around the globe. 

She exhibited her first solo show at Beijing Botanical Garden in China, January, 2020.

She has been participating in the florilegium project at the National Tropical Botanical
Garden in Kauai, Hawaii since 2018, as well as the residence program at Oak Spring Garden Foundation in Virginia. These programs provide her precious time to face plants with no disturbance.

Her various works are held at botanical collections at Huntington Library in California, National Tropical Botanical Garden in Kauai, Hawaii, Oak Spring Garden Foundation in Virginia, Kew Gardens in UK, and at many private collections.

She teaches regularly in Kyoto and Takarazuka, Hyogo.

Lady Ann Fraser

The inspiration for my painting comes from flowers and plants growing in our garden at Shepherd House, Inveresk.  Every plant is painted from life, true to size and colour. Sadly I am not a botanist but I strive to make my flowers as beautiful as they are in life.

I have always loved plants and flowers and grow everything that I paint. I like to arrange them on the page as if they are still growing in the garden. I marvel at the wonderful colour of flowers and try to match the luminosity of the petals and how light creates a three dimensional effect. I am attracted to strong shapes and colour and particularly enjoy painting the darker shades of tulips, hellebores and irises.

Garden or painting, I am often asked which came first and can only conclude that it is the passion for plants that combines them both.

Keiko Fujita

I studied botanical illustration while working as an interior designer in Tokyo and Kyoto. By holding several solo and group exhibitions, I learned the importance to leave records by botanical illustrations. I want to paint plants that convey the importance of nature.

Asarum caulescens Maxim. has  become rare to see in Japan these days, and many people don't know this plant. I am very happy that it is grown in the Royal Botanic Garden Edinburgh. And I am very grateful for the opportunity to draw it.

Yoko Harada

Since I have graduated RBGE Diploma in Botanical Illustration in 2018 with great memory, I would like to participate in the RBGE Florilegium for celebrating the RBGE's 350th anniversary.

Checked with the RBGE list for the Japanese native Arisaema that has been a living collection at RBGE and found an Arisaema urashima (H. Hara).

I have been to the Chiba prefecture in Japan few times for collecting plants where mentioned on RBGE list for Arisaema urashima (H. Hara) as provenance of plant material.

Marianne Hazlewood

I am a botanical artist. My work combines two main skill sets; botanical illustration and graphic design which influences my composition. I strive to highlight the natural structure and intricacies of the plants. I work using a multitude of botanical illustration techniques including watercolour, various pen and ink methods and screen printing and I specialise in capturing the beauty and details in nature.

I feel that now more than ever, that a focus on plant life and their place in our ecology is important to our world. I wish to draw attention to botany and the beauty found in nature through contemporary botanical exhibits and I hope to remind us how important they are to our survival as part of our now very delicate ecosystem.

Cheryl Hodges

Cheryl was raised on a property on the outskirts of Canberra, Australia, and developed a love of nature and art at an early age. After many years of experiment with different media and styles, in 1999 Cheryl discovered her passion; botanical watercolour painting.               

Cheryl particularly enjoys painting Australian natives and more recently has been focusing on threatened and endangered species.

Cheryl teaches both botanical and insect illustration. She hopes that through her painting and teaching, she will encourage people to look at the natural world with curiosity and fascination and therefore be more inclined to look after it.

 

Cheryl's style of painting involves building up the colour in many layers of soft washes, creating an almost translucent effect. She intensifies the final painting with darker washes and dry brush work.

Sarah Howard (Sherlock)

I was born in 1951 in Cambridge. I completed a Bachelor of Arts degree in African History & Social Anthropology, from the School of Oriental & African Studies, University of London in 1977 and an MSc in  Information Science from City University, London in 1985. I completed the Diploma in Botanical Illustration at the Royal Botanic Garden Edinburgh in 2014.

My career has included working at a Team Builder of a charity, Co. Durham, Proprietor of Highland Coffees (coffee roasting), Illustrator for the Flora of Ethiopia & Eritrea at Addis Ababa University, freelance writing and illustration, Press Officer and Journalist for an international Anglican agency, Archivist for Leakey family, National Museums, Kenya and Researcher and Committee Secretary at the international Anglican agency. I have also done freelance archival work at Rhodes House, Oxford and undertaken research for authors.

My childhood was spent in Kenya, and much of my married life connected with Ethiopia, hence my interest in the East and Horn of Africa.  Alongside paid work I have always travelled with a sketchbook in hand, with a curiosity about the world around me.  This culminated in the opportunity to study for the Diploma in Botanical Illustration.  My ambition is to build on my work as illustrator of the Ethiopian Flora to illustrate in colour flowers in the Horn of Africa for the benefit of local and expatriate residents.  My final work for the Diploma was a set of Aloes, which was painted from fieldwork done in various parts of Ethiopia.

When not living in Scotland, I have lived in Norfolk, where I was Secretary of the Iceni Botanical Artists, and partook of events run by the Institute of Analytical Plant Illustration.  Hill walking gives me an interest in Scotland's native plants.

Commissions included a set of paintings for the Savill Garden, Windsor; a set of trees for Ditchingham Park, Norfolk;  and single works often marking significant events for various private collectors.

Awards have included RHS, Medals, 2016, 2018 including Gold Medal, BISCOT, 2009, 2015, 2018 Medals including two Silver Gilt, two paintings accepted for the 13th International Exhibition, Hunt Institute, 2010 and a work in the Flora Scotia Worldwide Exhibition 2018.

Publications: Illustrations in Breckland Wild Flowers (Iceni Botanical Artists, 2016), Flora of Ethiopia (1997-2006), Kew Bulletin (2003, 2007, 2009).  Scottish Plant Lore (Kenicer, 2018).  Articles about painting plants in various magazines and journals.

Works in the RBGE Collection:

Mariko Ikeda

I started painting botanical art in the early 1990s and have taught as an instructor in Tokyo since 2006.

Since studying Japanese style of painting in the doctoral course, I have been researching traditional painting materials to learn and understand technical improvements that could assist in the preservation of future art. In 2019 in London, I was given the opportunity to examine the early modern masterpieces on vellum and study botanical art with the support of the Japanese Government.

The Pandanus plant is currently the theme of my artwork. Japanese Botanical Gardens and their botanists give me pieces of living specimen from their glass houses that enables me to observe fragile parts such as the male flower in perfect condition. Plants are also collected by visiting their habitat, then imported with the help of local botanists. In tropical jungles, I have witnessed the closely connected relationship between plants and humans, and it led me to wonder how an artist may be able to assist in nature conservation.

Now my printed works are donated to the university of Guam and the Tsukuba Botanical Garden in Japan then used for educational support. Original works are stored in the Royal Botanic Gardens, Kew, Royal Horticultural Society, Hunt institute and Shirley Sherwood collection.

Mieko Ishikawa

I visited the Royal Botanic Garden Edinburgh for the first time last fall. I was fascinated by the beauty of the RBGE that has had 350 years history. I was also very impressed seeing many wonderful botanical art works in the library. At that time, I was invited to participate in The RBGE Florilegium.

I was surprised and pleased to learn that the RBGE have many collections of Japanese plants. I found Paulownia tomentosa in the Japanese plants list. I have already painted Paulownia. I also learned that RBGE have Paulownia with many historical stories, so I decided to participate with my work of Paulownia tomentosa in The RBGE Florilegium.

It is said that Paulownia tomentosa had come from China to Japan, also it grows naturally in Japan. Paulownia has many interesting histories. I searched Paulownia flowers to paint in Nikko and Toyama prefectures in Japan. Especially, there are many Paulownia trees in Toyama, so I painted the Paulownia tree collected in Toyama. It took me over two years to complete.

Thutploy Kaewpradub

I am a self taught botanical artist. I have attended fine art College.

I heard of this project from Miss Sansanee Deekrajang. She explained how important it is to paint tropical plants growing at RBGE (included in the Living Collection list.)

I'm very inspired. I got the scientific name and picture of this plant that I know is a very common plant in Thailand. I am studied and designed to do Caryota palm. 

I went to Sri Nakhon Khuean Khan Park and Botanical Garden, in the area of Choa Praya River delta. At this garden are a lot of Caryota palm trees, for study and I can collect  samples for my painting.

Hideko Kamoshita

I am a member of the Japanese Association of Botanical Illustration.

I have been drawing mainly Japanese native plants.

Geetha Sandunmali Kulasekara

I'm a Sri Lankan Botanical and Natural History illustration Artist.

My career was started as a Plant Tissue Culturist at the University of Colombo, Sri Lanka and I mainly worked on Orchids, Anthurium, Banana, Medicinal Plants and Aloe Vera, etc. I gain the experience about horticulture crops and orchids at the Royal Botanical garden in Peradeniya, Sri Lanka. After few years of experience, I was unable to continue one of my favourite tissue culture profession as I moved  abroad.

I had an interest on the Plant science since childhood and therefore I studied Botany for the advance level too. So, I decided to build-up my career on Botanical illustration by combining my interest on Botany and my skills
on Arts.

Botanical Illustration learning was started in 2018 and currently enhancing my Botanical Illustrations skills with Mrs. Dianne Sutherland Ball. She always tried to assist me in every possible ways and I would like to give my
gratitude to her for encouragement and the frequent assistant rendered during past period.

Interested in adding work to my native plant collection in the future. Special consideration will be given to
Medicinal Plants too. I always thought that it is our responsibility to save the plants in the verge of extinction.
Finally, I would love to say I'm a Botanical & Nature lover.

Pornlert Laorsuwan

I was born in a rural area in the southern of Thailand, with nature, beautiful tropical forests. Therefore, I am interested in nature including birds, wildlife, insects and various plants.

I like drawing water-colour since I was in elementary school. I met Mr Phansakdi Chakkaphak who is the famous botanical artist in Thailand.  His works inspired me to start drawing plants and flowers in the way of a natural realistic with his guidance.

I have participated in the Sci-Art Network Thailand for over 20 years, including teaching and performing many works.

RBGE Florilegium 2020 invited the artists worldwide, I decided to participate under Ms Sansanee Deekrajang's co-ordinations.

Nicola Macartney

I am a Scottish artist specialising in contemporary botanical art and illustration. I have a Diploma in Botanical Illustration from the Royal Botanic Garden Edinburgh, graduating with distinction in 2012. I have  won awards from the Royal Caledonian Horticultural Society, the Scottish Society of Botanical Artists and the Royal Horticultural Society.

In addition to the RBGE my work is held in private collections and it has also been reproduced for use in books, advertising and interpretation materials.

My work has been exhibited across the UK. Some recent Exhibitions include:

Green Gold: Plants from the travels of John Jeffrey, Solo feature at The John Hope Gateway, Royal Botanic Garden Edinburgh. 2019
Edinburgh Society of Botanical Artists' Exhibition, The Dundas Street Gallery, Edinburgh. 2018
Royal Horticultural Society London Plant and Art Fair, Lindley Hall, Westminster, London. 2018
Flora Scotia – ASBA Worldwide Exhibition of Botanical Art, The John Hope Gateway, Royal Botanic Garden Edinburgh. 2018
Scottish Society of Botanical Artists' The Colours of Nature, Smith Art Gallery and Museum, Stirling. 2017
'Here we go gathering nuts in May', Duo exhibition at The Line Gallery, Linlithgow. 2017
The Botanical Exhibition, Sawyer Gallery, Inverewe Gardens and Estate, Wester Ross. 2017

I live and work near Edinburgh, Scotland. You can follow my work on Instagram and Facebook

Works in the RBGE Collection:

Mike May

I am self taught and have been a bird and botanical artist since very young. I am interested in pursuing the idea of bird and botanical art as a vehicle for building emotional resilience and well-being.  

I also use my art as a means to raise awareness of species conservation and have run projects in Brazil and China.  

My work is in private collections in the UK, Spain, Belgium and China.

To contact Mike please email: mike@lullula.org

Works in the RBGE Collection:

Mhorag McDowall

I grew up in Speyside, in the north of Scotland. From an early age I was fascinated in plants and nature.

I studied to become a primary teacher, but always that it wasn't where my passion lay.

After having my family, I studied the Certificate and the Diploma in Botanical Illustration at RBGE. In discovering botanical illustration, I also discovered my passion.

Jan Miller

Born in Birmingham I have subsequently lived in Staffordshire, Newcastle upon Tyne, New York State, Glasgow and am now resident in Perthshire.

I worked as a Sociologist and Social Worker, working in Newcastle, Leeds and Glasgow and as a Lecturer at the University of Strathclyde and the Open University. In the 1980's I helped to develop a herbarium whilst doing a social work internship in New York State, and introduced botanical illustration classes to Schenectady Museum. I now facilitate a botanical illustration group with the U3A (University of the Third Age) in Balbeggie, Perthshire.

Alongside my social work there has always been an interest in botanical illustration. I try to dedicate at least part of every week to botanical illustration, exhibiting at the Edinburgh Society of Botanical Artists (ESBA) annual exhibition and with Fusation, a local group of Perthshire artists, this year at The Bield at Blackruthven near Perth. In 2017 I also exhibited at the annual BISCOT exhibition gaining a bronze medal for a series of Geraneaceae paintings. I came to painting not as an artist but through a love of plants. I find painting them a joy and an excuse to spend many hours in their company. In order to develop my skills, I have attended classes in drawing and photography at Glasgow School of Art and many short courses in Botanical Illustration with the Field Studies Council, RBGE and St. Andrews Botanic Garden. In 2012 I painted with an international group of illustrators on a boat on the Amazon in the footsteps of the renowned artist Margaret Mee, a wonderful experience.

Social work and Botanical Illustration may seem an odd combination, but they do complement one another and at different times of my life one has taken precedence over the other. I am happiest in wild environments where there are lots of flowers, and am professionally drawn to areas of large cities where there are social issues that should be dealt with fairly and constructively.

Works in the RBGE Collection:

Gloria Newlan

I was born on the 10th April 1946 in Vancouver, Canada and now live and work in Dumfriesshire in Scotland.

In 2014 I completed a Diploma in Botanical Illustration at RBGE and show regularly with Edinburgh Society of Botanical Artists (ESBA). Two of my native plant paintings were selected for The Flora Scotia World Botanical Exhibition in 2018 and were included in the book Scottish Plant Lore: an illustrated Flora by Greg Kenicer (published by RBGE in October 2018). In June 2019, I will have paintings in SBA Plantae exhibition in London and RBGE Florilegium exhibition in Edinburgh.

I am interested in Plant Spirit Medicine and native plants growing in my garden and surrounding area and study their uses for dye and medicine. My other artwork includes Narrative Painting inspired by inner vision and story as well as art journals documenting my travels. I have been working in therapeutic arts with adults and children since 1997 (Drama therapy Diploma), 1998 (PGDip. ED) and 2006 (Counselling Skills for Children, Using the Arts).

Past projects have included printmaking, environmental design, woven artifacts and being a co-worker in multi-cultural arts workshops in museums and schools in Scotland and England. 

I sell works in London and Edinburgh and via the Fine Art America website.

Works in the RBGE Collection:

Eunike Nugroho

Nature always fascinates me. Words seem to only partly capture how I feel, but when I am drawing or painting plants or animals, it is like being intimately invited into witnessing their essence. Like friends, they open their secrets, layer by layer, inside and out, with details that leave me stupefied. Drawing and painting are the only things I can do to share my wonderment and awe. I am very grateful for how art and nature converge in my life right now. Botanical art is not merely a personal passion, I find my life calling here, too.

As a botanical artist, I want to share with others the awe of nature. Hopefully my works help them to appreciate the beauty of plants and animals. Through detailed portrayals of their intricate forms and features, I want to slow down the time for my viewers so they better appreciate this amazing Earth, its inhabitants and elements that have sustained our lives.

Wichanee Pongpawasuit

"Rainbow Curcuma" is the most colourful and the largest curcuma in my curcuma collection.

It sprouted from the soil in my planter after the first rain shower in the last March, just like it woke up from the long sleep during the dry season. Then it started growing fast by following the three significant stages from my observation below: a maroon colour shoot grows into a young trunk, rolled young leaves get rolled out into mature leaves, and finally a flower blooms from the crotch of a trunk.

Overall it took about 4 weeks to get to the mature stage. I found drawing and painting rainbow curcuma quite a challenge since it had its own unique spiral pattern, lines, and colour tones. In order to faithfully reflect its "rainbow" name, I tried to illustrate its variant colours especially on the flower. Its colour gradations range from brownish red at the bottom to red-orange and red-purple in the middle to pink-purple on the crown.

I wish people would find my illustration informative as well as pleasant to see. 

Neera Joshi Pradhan

I am an independent self–employed artist and botanical illustrator in Nepal. My botanical art works have been exhibited in Nepal and widely in various parts of the globe and  can be found in many prestigious institutions, including RBGE and private collection.

An approach of combining art and science first began in 1999 and was introduced in the book Flora from Kathmandu Valley. I have contributed scientific botanical art works including line drawings for Flora of Nepal, Volume 3, 2011 (published by RBGE) and several scientific papers on botanical art and illustrations in several scientific papers . I have been conducting scientific botanical art workshops for scientists, school children and many private learners in Nepal . Recently I was invited to conduct a series of art workshops for College and school children in Hyderabad India. Currently I conduct classes and workshops for national and international students at my botanical art and illustration school, Studio Petals,  in Nepal and give some extra time in research on the Flora of Nepal.

Maria Alice De Rezende

Graduated in Fine Arts and Botanical Illustration. Masters in Botany.

Improvement in scientific illustration. Margaret Mee Scholar Artist in 2004 at Kew Gardens. 

Works published in Brazil and abroad, and works selected for exhibitions in Portugal, USA, Tokyo, London and the Hunt Institute. 

Currently teaching courses and working on the project "Cryptogamic Diversity, Biology and Conservation on the South Atlantic Island" JBRJ. 

Jane Roxburgh

My objective is to depict the plant accurately, without ignoring its overall spirit. I chose both these specimens specifically for their most interesting form and variation.

In my painting of Liriodendron tulipifera- the tulip tree- I've sought to show the characteristic movement and curling up of the leaves and also the colour changes that occur throughout the summer where gold leaves punctuate the greenery. The three tulip flowers are depicted at different stages of maturity, and the lichen populates especially on random bare branches which eventually snap off in strong autumn winds. Details show the mature tree, a dissection of one tulip flower, and a later dry seed pod.

Lizzie Sanders

I have been producing botanical paintings for some thirty years. My work is botanically accurate, painted meticulously in water-colour, using a dry brush technique.

I trained at Duncan of Jordanstone College of Art, Dundee and spent many years working in graphic design and advertising in Italy and New York before returning to Scotland. I have lectured in Graphic Design at Dundee, Glasgow and Edinburgh Art Colleges and currently tutor the Diploma Course in Botanical Illustration at the Royal Botanic Gardens, Edinburgh

I have exhibited work at the RHS Show in London three times and on each occasion was awarded a gold medal. In 2004 I was honoured by the American Society of Botanical Artists, with the Diane Bouchier Award for Excellence. I have two paintings in the Highgrove Florilegium, The Prince of Wales Charitable Trust.

To find out more about Lizzie's work please visit her website.

Works in the RBGE Collection:

Adenium obesum ssp. sokotranum (2000)
Iris bucharica (2019)
Kalanchoe farinacea (1996)
Senna socotrana (1999)
Withania adunensis (1994)

 

Wendy Smith

In 2011, I signed up for four sessions of Botanical Art with Kent Adult Education and Tutor Claire Sparkes. I was hooked!

My preferred medium is ink. I work from live plants, usually home grown.

Narongsak Sukkaewmanee

Born in Thailand on the 28 February 1983 I have a Degree in Fine art from Poh-Chang Academy of Arts and a Masters in Art Education from Chulalongkorn University. I am a member of the SciArt Network in Thailand and a botanical artist of research diversity of Wild Banana in Thailand.

MUSACEAE has long been my favourite subject since I participated in the field survey of wild banana varieties in Thailand with an Assistant Professor Dr. Sasivimon Swangpol, a project leader at Mahidol University. I had been travel to all over Thailand and illustrated many kind of bananas. This value experience led me to gain more knowledges of its each characteristic and also gain more techniques in drawing them.

For 2020 project, I am happy to paint Musa coccinea Andr. since this plant itself is naturally beautiful. I tried to deliver its true beauty through this painting. I hope it would help allowing people to aware of conserving nature as well as inspiring idea of drawing botanical illustration to the Thai new generation.

I have exhibited works at the following meetings:

The 16th Flora of Thailand Meeting at Kew Botanical Gardens, 7-12 September 2014
The Exhibition of Botanical Art at the 19th International Botanical Congress at Shienzien China, 23-29 July 2016
Botanical Art Worldwide Thailand Edition at Bangkok Art and Culture Centre, 15-27 May 2018 

To contact Narongsak for sales or commissions please email: maskcy28@gmail.com

Works in the RBGE Collection:

Anna Suprunenko

I have been a passionate botanical artist since 2014. The idea to do watercolour botanical art came to me when I got the catalogues with botanical paintings of European and American artists. I could not take my eyes off Pandora Sellars' works.

I pay a lot of attention to detail in my works. I find something meditative in realistic watercolour painting. My favourite objects are forest and field plants, spring flowers and trees.

I am inspired by the diversity of nature. By drawing my favourite plants, I try to convey their natural shape, texture and colour shades as accurately as possible. Through my botanical works, I help people to feel and appreciate how beautiful and diverse the kingdom of plants is.

Dianne Sutherland

Botanical illustrator with specific interest in documenting native species at home in the UK and overseas.

Learning about new species and documenting them in sketchbooks and study pages - deconstructing them before recreating in final paintings.

Leigh Tindale

I was born in 1960 in Edinburgh and lived in Los Angeles in the USA from 1981 to 2001. I'm now dividing my time between Scotland and California with the contrasting climates offering exposure to a diverse range of native habitat flora and fauna.

Through my work in Textiles, Glass, Surface pattern design, Ancient Byzantine mosaic, Oil and water based painting, the Botanical theme has been a consistent thread woven through each medium and application that my hands have ever crafted.

Career:

1977 - 1979 - North Star Marine - Family Yacht building company. U.K
1984 - 1986 – F.I.D.M - Fashion Design, Los Angeles. U.S.A
1987 - 1988 - Otis Parsons School of Design, Los Angeles. U.S.A
1989 - 1991 - Pogo Bhutan - Knitwear and Textile Design. U.S.A
1991 - 1993 - May Berry West - Surface Pattern Design for Interiors. U.S.A
1993 - 1998 - Freelance Surface Pattern Design for Interiors. U.S.A
2000 - 2002 - Creative development for 'The Historical Handbook to Scotland'
2004 - Cool Coast - Surface Pattern Design for Interiors. U.K

Courses

2006 - Scuola Arte del Mosaico - Ancient Byzantine mosaic, Ravenna, Italy
2006 - Orsoni Studio - Mosaic Master Course - Venice, Italy
2007 - Stucco Italiano - Marmorino Veneziano plaster technique. U.K
2007 - Scuola Arte del Mosaico - Floor Mosaic Design, Ravenna, Italy
2007 - Institute of Mosaic - Architectural Application, San Fransisco. U.S.A
2017 - RBGE Diploma in Botanical Illustration. U.K

Botanical Exhibitions:

2018 - Dean Gallery. U.K 'Lunaria annua' (honesty)

2018 - Flora Scotica exhibiton and two works, Laminaria digitata and Himanthalia elongata (seaweed) were then included in the book Scottish Plant Lore: an Illustrated Flora by Gregory Kenicer (RBGE, 2018)

I am a member of the Scottish Society of Botanical Artists and the Edinburgh Society of Botanical Artists.

I have paintings in Private Collections in Los Angeles, Malibu, San Diego and London.

Works in the RBGE Collection:

Sharon Tingey

"Go to nature in all singleness of heart, and walk with her laboriously and trustingly, having no other thoughts but how best to penetrate her meaning, and remembering her instruction; rejecting nothing, selecting nothing, and scorning nothing . . . and rejoicing always in the truth" - John Ruskin.

In my work I have kept this quote from the Ruskin's "Modern Painters" close to my heart. I always strive to capture the individual character of the subject, be it animal, vegetable or mineral, in a way that shows its beauty through truth.

I use watercolour, as a medium of endless variety and subtly, working always towards a perfect balance of clarity and detail, combined with an economy of brush strokes; harmonious yet striking.

The two words which are key to my work are:

Truth; while I might manipulate my subjects to best reveal what is beautiful, interesting or strange, I always show the truth of it.

Character; I always strive to capture the essential character of the subject I am painting.

To contact Sharon for sales or commissions please email: s.tingey@hotmail.co.uk

Works in the RBGE Collection:

 

Margaret Trent

Botanical art offers a way to combine my love of nature, a desire for detail and a hankering to create. Although my first botanical drawings were completed in high school, quite a few years went by before I was able to pursue botanical art more seriously.

I started with graphite, then watercolour, before adding coloured pencil. Now I work almost exclusively with coloured pencil on drafting film. I love the fine detail I can obtain and the soft buttery look that drafting film imparts.

I've discovered perfection in the intense blue of Himalayan Poppies, the intricate arrangement of petals in a Chrysanthemum and the graceful curves of a Tree Peony bloom. But I like to incorporate nature's imperfections as well: the yellowed edge on a leaf, a little hole made by an insect, mushrooms on decomposing wood. While my focus is primarily on botanical subjects, I also really enjoy painting birds.

Nataya Udompat

I started painting with porcelain painting, acrylic and watercolour after retirement. I attended short courses and  workshops. I am self-taught on botanical painting. I have been delighted to spend my entire life to focus on botanical painting. 

In 2019 and 2020 I met Ms Sansanee Deekrajang  attending the botanical illustration painting class for 80hrs in Thailand, learning more about the botany and ecology of plants as I paint them.  She made me understood how to do the botanical illustration, the study of plants, a kind of plants in forest etc. From that time I become the botanical illustration artist

Sunanda Widel

Art has been a part of my life since my childhood days when I would draw plants from our garden. In college I went on to first study Advertising Art and then Printmaking.

My plans to continue in a career changed when I met my husband and we decided to pursue careers in overseas teaching. Naturally, I taught art. Living and teaching in many countries was a marvellous experience.

After teaching and raising my children, I returned to my first love, creating art. I worked in pastels, oils and some watercolours. Discovering botanical art tied in perfectly with my love of plants and I enrolled for the SBA distance learning course. I graduated with Distinction.

Since then I have continued my Botanical painting and now I am focused on researching and preparing for the RHS show. A small group of us here in Singapore have also created the first Botanical Art Society with a growing and active membership of botanical art lovers. 

Michie Yamada

I draw wild roses native to Japan while visiting natural habitats. I am afraid that the wild plants I am seeing will not be able to seen someday due to changes in weather and the development of the wilderness.

I am impressed by collection of plants from all over the world and wild plants from all over Japan in RBGE. I believe that by participating in this Florilegium, I can learn about plants all over the world through botanical art.

I would be happy if many people could see the plants I draw. I think this Florilegium is a
great opportunity to meet many plants and botanical art.

Tapita Yomnage

I personally had a strong interest in the botany, and I learned about watercolour
painting at Mahidol University.

After that, I learn to draw a botanical illustration with
Sansanee Deekrajang and go hiking in the national park, so you know lichen. Its
fascination with beauty has resulted in the image of this plant.