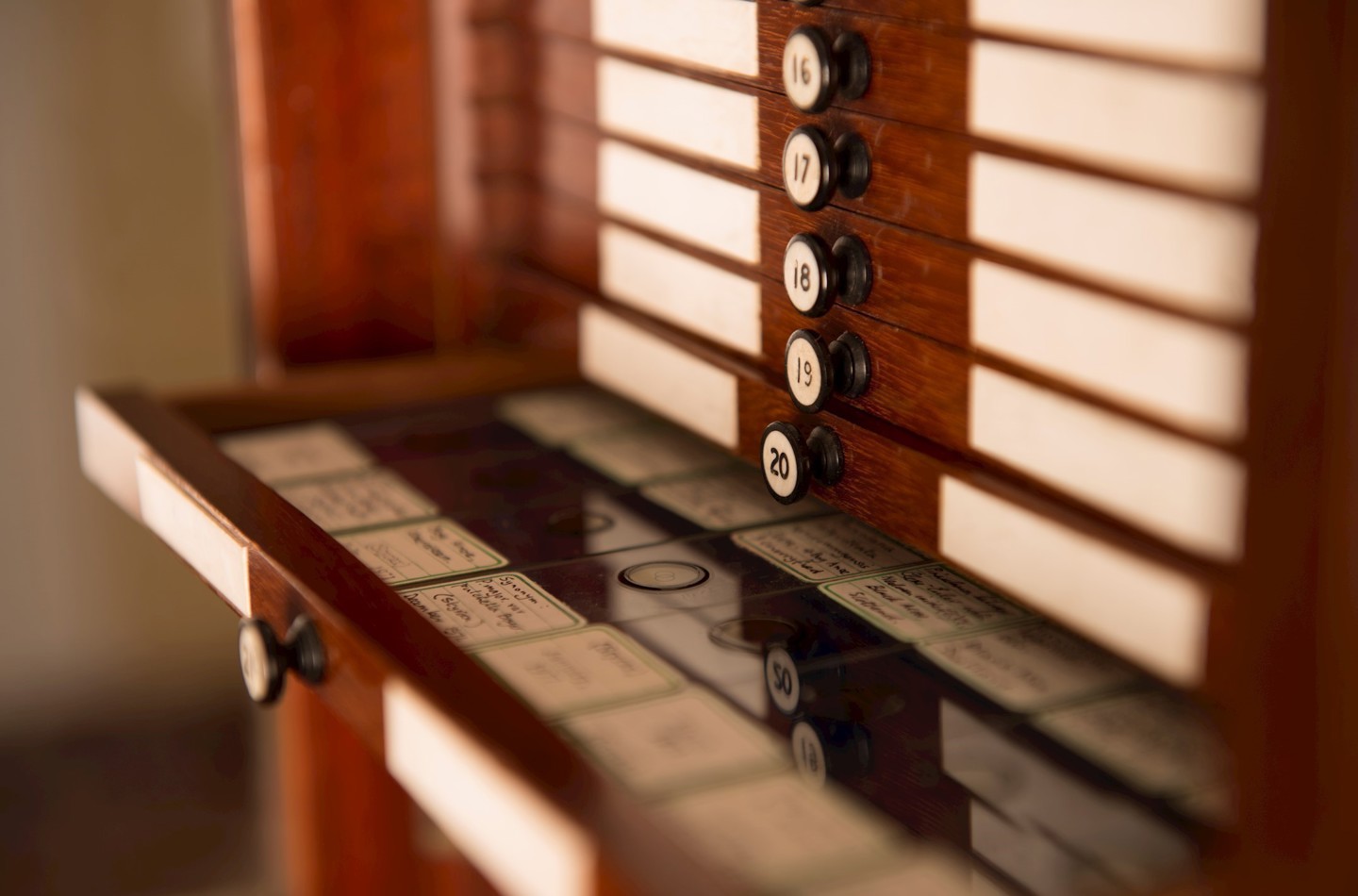 Diatoms
Our active diatom research collection continues to expand through new sampling for monitoring surveys, vouchers for life cycle studies, DNA barcoding and speciation research.
Summary

50,000 slide collections

2,300 dried material

5,675 catalogued, in spirit

Number of type specimens unknown

Diatoms occur in almost all aquatic habitats, marine or freshwater, where they can be freely suspended in water (planktonic), moving through sediments, or attached to rock or other surfaces. A few grow on land, on soil or damp rock faces, and some live as endosymbionts within foraminifera.

The special feature of diatoms is that each cell is enclosed in a complex, highly ornamented cell wall made not of organic compounds, as in most plants and algae, but of silica. Diatoms are able to absorb dissolved silicate from the environment and transform it into elaborate solid structures. They generate around 20% of the oxygen produced on earth each year, and can be used to study past and present environmental conditions and can also be used to assess water quality.

Dating from c.1850 to the present day, our collections contain around 50,000 slides, as well as many suspended and dried collections of both fossil and recent diatoms.

Both marine and freshwater diatoms are well represented, with a particular taxonomic strength in the collection of harvested epipelon. It is principally a resource for taxonomic and speciation research.

The collection is predominantly from the United Kingdom with significant holdings from Europe, Asia and elsewhere.

Examples of our Diatom collection
Important Historical Collections
We hold one of the most comprehensive collections of slides and unmounted material from Professor G.A. Walker Arnott including the original 'top' set of his slides and those he acquired through correspondence with other mid-19th century diatomists. Many of the slides are isotypes for species described by British diatomists in the 1850s. We also hold Walker Arnott's annotated copy of William Smith's Synopsis of British Diatomaceae.
William Gregory (1803-1858)
Robert Kaye Greville (1794-1866)
William Smith (1853-1856)
Tempére & Peragallo (1907-1915)
 Other Resources
Petri dishes – used as an experimental method of storage and for dried clonal cultures
SEM stubs - Mostly originate from RBGE but some were brought here from the Natural History Museum, London
Photographs - Complementing the diatom herbarium collection are the reprint collections and entire photographic archives of over 30,000 negatives of Frank Round and David Mann.
Major Collections
M. Anderson
John R. Carter (1908-1993)
Stephen Droop
R.I. Firth (1902-1980)
Theresa Gow
William Gregory (1803-1858)
Bernard Hartley (1917-2007)
Martyn Kelly
Professor David Mann (1953-)
Professor Frank Round, University of Bristol (1927-)
William Smith (1853-1856)
Tempere & Peragallo (1907-1915)
G.A. Walker-Arnott (1799-1868)
Glasgow University Botany Department
Scottish Environmental Protection Agency (SEPA) - RBGE is the official repository for SEPA vouchers. Mainly collected during monitoring work. The material is in various formats: unprepared and prepared tubes, and slides
University College London (UCL)
University Marine Biological Station Millport slide collection