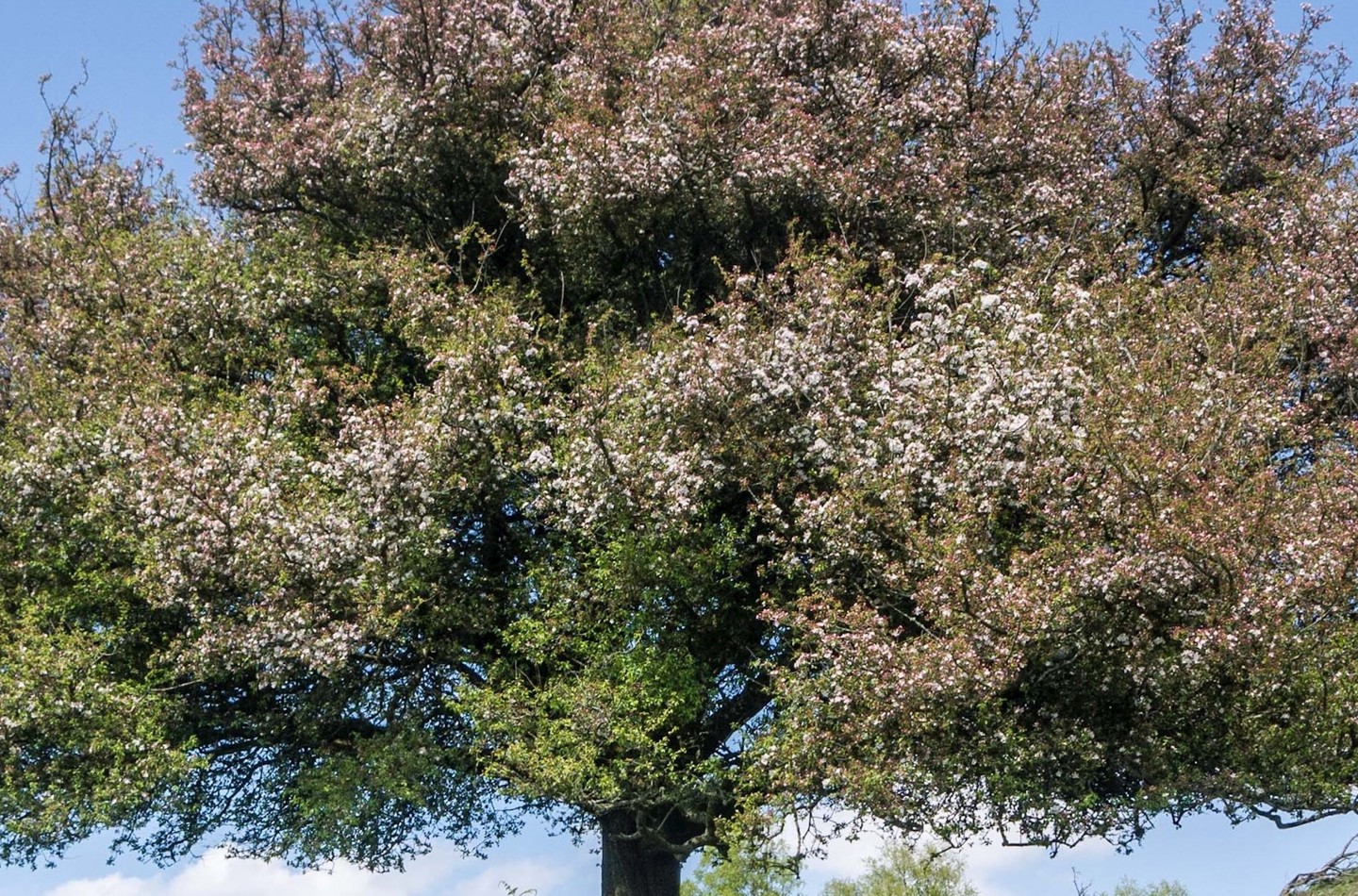 Is the wild apple following the wild cat towards extinction?
Royal Botanic Garden Edinburgh
Science
Mon 21st Jan 2019
;
Appreciated by the Celts, referenced by Shakespeare and prized today in a range of food and drinks, the wild apple is part of British heritage and a precious source of genetic variation for breeding and conservation. Yet, the future looks bleak as the last bastions of the species have been identified in parts of Scotland and northern England. A new study shows that over the rest of Northern Britain the wild apple, commonly known as crab apple, is disappearing from woods and hedgerows as it hybridises with cultivated specimens.

After more than a decade unpicking the strange origins of the cultivated apple (Malus x domestica), one of the world's most important fruit crops, scientists have turned their attention to the UK's native wild apple (Malus sylvestris) and unearthed an unexpected problem: while there has been increasing concern over the integrity of the UK's wild apples, no one has appreciated how big the problem was.

Researcher Markus Ruhsam, from the Royal Botanic Garden Edinburgh (RBGE), and Forestry Consultant Rick Worrell, supported by Forestry Commission Scotland, used DNA analysis to determine the genetic make-up of wild apple trees across Scotland and northern England.

Their survey, published in the journal Forestry, shows that the genetic make-up of the apples in the UK countryside is complex. There are individuals representing not only pure wild apples, but also crosses between wild and cultivated apples, feral or 'escaped' domestic apples derived from casually discarded apple cores and a few Chinese and Siberian varieties planted as decorative trees.

Importantly, the results showed that around 30 per cent of what look like pure native wild apple trees are, in fact, now hybrids - containing varying quantities of genetic material from cultivated types. Such hybrid trees are most frequent in areas, such as the heavily-farmed lowlands of Scotland's Central Belt - with the most intensive land use and least natural woodland. Here, around half of all trees were found to be hybrids. In contrast, many upland areas - where ancient woodland is more common - were identified as strongholds for the native species, with around 75 to 90 per cent of trees are still pure wild apples. These last bastions included the southern Highlands, particularly around the Loch Lomond and Trossachs National Park, parts of Dumfries & Galloway and England's Lake District.

Lead author Ruhsam, explained: "Cultivated apples have been grown in orchards since at least 1100, and probably longer, so there has been a long period over which crossing between wild and cultivated forms could take place. The particularly large numbers of hybrids found in lowland areas suggest that these forms have found their way into the nursery trade and since been widely planted."

Worrell, who initiated the research, described the significance of the findings: "This story is similar in some ways to that of the Scottish wild cat, under threat from hybridisation with domestic cats. If we are not careful the wild apple, one of the UK's rarer native trees, may be progressively hybridised out of existence."

Having identified the problem, concluded Ruhsam, the call must be for action: "To protect the wild apple, and its valuable gene pool, we need to prioritise conservation work in the stronghold areas identified in this study."


ENDS
For further information, images and interviews please call Shauna Hay on 0131 248 2900/07824 529 028 s.hay@rbge.org.uk or Charlotte McDonald on 0131 248 2925.
EDITOR'S NOTES
Cultivated apples are now known to have been formed via historic crosses between wild sweet apples from the remarkable apple-dominated forests in eastern Asia, and European wild (crab) apples, taking place between 1500 and 4500 years ago. See Cornille et al. 2014, available here.

The wild apple is probably the UK's least researched and understood native tree species. The work described here forms part of a wider project exploring the ecology of wild apple in Northern Britain for the first time, with results expected later in 2019.

"Crop-to-wild introgression in the European wild apple Malus sylvestris in Northern Britain" is published in Forestry: An International Journal of Forest Research (see article) and is the first scientific paper devoted to the genetics and ecology of wild apples in the UK.

The Royal Botanic Garden Edinburgh (RBGE) is a leading international research organisation delivering knowledge, education and plant conservation action in more than 50 countries around the world. In Scotland its four Gardens at Edinburgh, Benmore, Dawyck and Logan attract nearly a million visitors each year. It operates as a Non Departmental Public Body established under the National Heritage (Scotland) Act 1985, principally funded by the Scottish Government. It is also a registered charity, managed by a Board of Trustees appointed by Ministers. Its mission is "To explore, conserve and explain the world of plants for a better future".