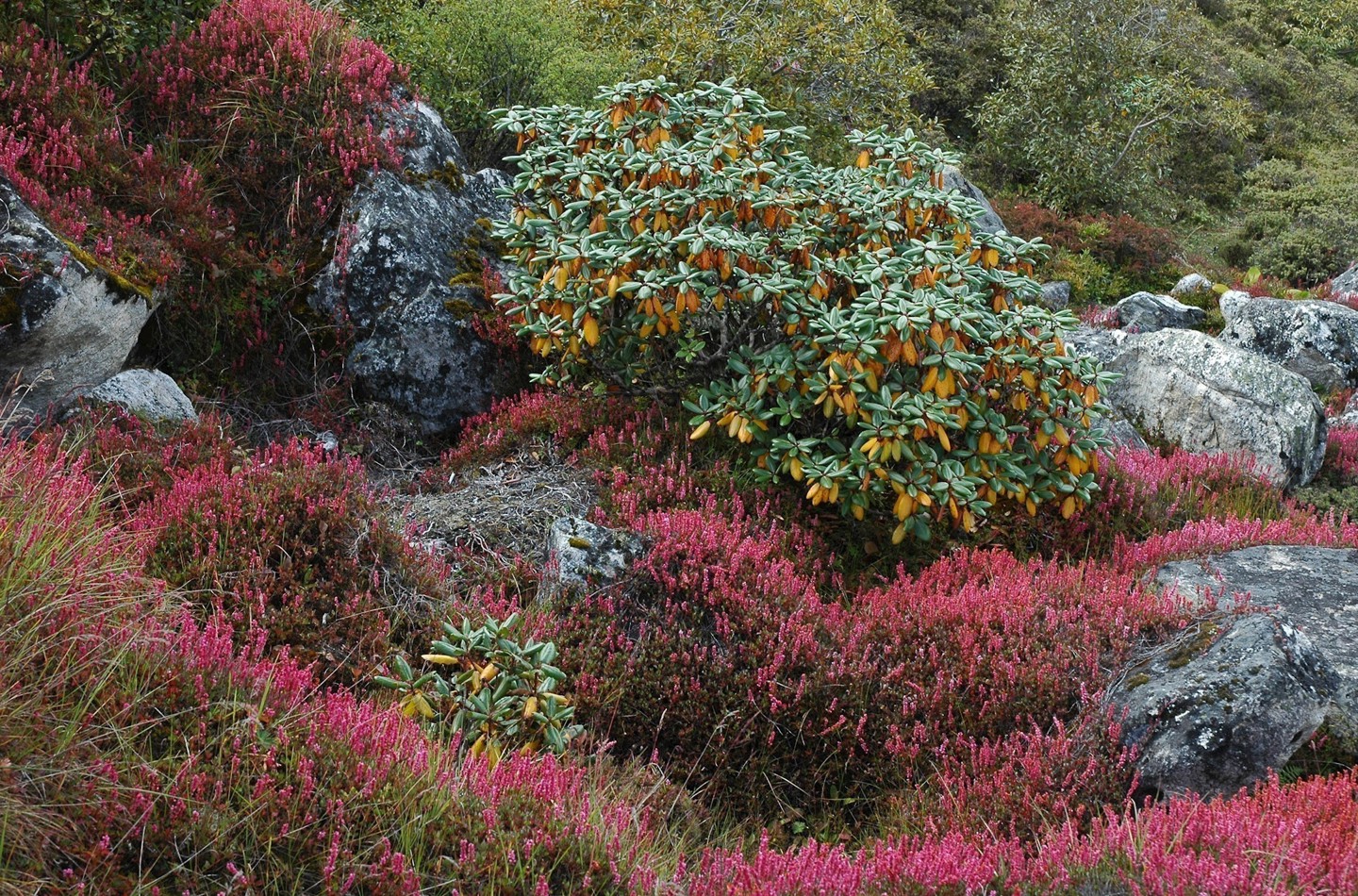 350th Anniversary launch
Royal Botanic Garden Edinburgh
General and Corporate
Tue 7th Jan 2020
;
As it marks its 350th year, the Royal Botanic Garden Edinburgh highlights urgent need to protect the world's plants

The Royal Botanic Garden Edinburgh will mark its 350th anniversary by undertaking a year-long programme of events and activities to celebrate its historic collections, its national and international achievements and to highlight the growing need to protect the world's plants. The global challenges of the climate crisis and biodiversity loss will provide the focus of the organisation's effort for years to come.

Today, Tuesday 7 January, the organisation reveals a packed programme of events for 2020, from a research expedition to Papua New Guinea to a big birthday party for the public during summer.

Regius Keeper Simon Milne MBE said: "We live in unprecedented times as we face the twin and related challenges of the climate emergency and biodiversity crisis. All known life depends on plants, yet one in five species is threatened with extinction. The breadth, depth and worldwide reach of the Botanics places it, and Scotland, at the forefront of efforts to further understand and conserve plants and fungi.

"The Botanics is a treasured national and international institution thanks to the inspired work of so many people over the centuries. I am delighted to invite everyone to help us celebrate this anniversary."

Some highlights from the 350th Programme include:

RHS Chelsea Flower Show exhibit, Tues 19 - Sat 23 May 2020. The Royal Botanic Garden Edinburgh will exhibit within the RHS Chelsea Flower Show's Discovery Zone, showcasing how its work will help to secure the future of the world's plants.
Garden of Tranquillity opening, June 2020. A new area will open at the Botanics providing a safe, peaceful and sensory space for visitors with dementia and their carers.
Big Botanics Birthday Party, Sun 14 June 2020. Visitors will be invited to celebrate the Garden's 350th at a special birthday party. With a focus on its global influence, the Botanics will create a world festival featuring music, dance, food and a big birthday cake. Celebrations will also take place at the Regional Gardens Benmore, Logan and Dawyck during the summer months.
Artists Residencies, Inverleith House, July 2020. Over the course of a year, three artists Christine Borland, Karine Polwart and Pippa Murphy will produce artworks drawing upon the Garden's rich archive and historic collections for inspiration.
Expedition to Papua New Guinea, August 2020. The Royal Botanic Garden Edinburgh will undertake a four-week research expedition to the Papua New Guinea Highlands. In collaboration with the Papua New Guinea Forest Research Institute and the National Museum of Scotland, the expedition will set out to discover and record new species of plants and insects, and monitor biodiversity by using next generation DNA sequencing.
Nature's Voice Gala Concert, Sat 10 October 2020. The Botanics will collaborate with Dunedin Consort to perform music that celebrates nature, from Telemann's Water Music to Vivaldi's Four Seasons, at a concert at The Queen's Hall, Edinburgh.
Halting Plant Extinction debate, Thurs 26 November 2020. Leading scientists will explore the biodiversity crisis from a botanical perspective in collaboration with the Royal Society of Edinburgh.

The story of the Royal Botanic Garden Edinburgh began in 1670 when two intrepid doctors, Andrew Balfour and Robert Sibbald, established a physic garden near the Palace of Holyroodhouse to study and supply plants for medicinal purposes. The Garden prospered and, in 1675, moved to a larger site at Trinity Hospital, where Waverley Station now stands. In 1763, under the leadership of John Hope, with an endowment from the Crown and Royal status, the Garden moved from the Old Town to Leith Walk. It remained there until 1820, when the Garden began the move to its current site in Inverleith.

The Botanics' has an impressive history of achievements. These include: Playing a critical role in the development of the moss Sphagnum for field dressings which saved thousands of soldiers' lives in the First World War; characterising the plant biodiversity of many species-rich habitats and countries around the world, and developing new approaches using DNA to understand plant biodiversity. The Garden has produced cutting edge and influential research publications dating back to the 17th century and during this time has established critically important collections of plants from around the world as a vital resource for research and conservation.

Today, the Royal Botanic Garden Edinburgh is one of the world's leading botanic gardens, working in partnership with more than 35 countries on research and horticulture projects. Its scientists discover and describe an average of one plant species new to science every week. Each year, its four Gardens in Scotland – Edinburgh, Benmore, Dawyck and Logan - attract over one million visitors and its education programmes reach 12,000 students around the globe. Regius Keeper Simon Milne said: "The need for botanic gardens such as ours has never been so great. Our work not only focuses on innovative and vital research but also inspires people to enjoy, understand and help protect the amazing world of plants."

Scottish Government Environment Secretary Roseanna Cunningham added: "The First Minister was the first national leader to declare a global climate emergency, and we have put in place the most stringent climate legislation of any country in the world. Through innovative plant science and conservation, the Royal Botanic Garden Edinburgh places our nation at the forefront of international efforts to respond to the challenges of climate change and biodiversity loss and the clear links between them.

"The Royal Botanic Garden Edinburgh is the guardian of Scotland's National Botanic Collection of living plants, herbarium specimens, books and archives. It is a significant asset, a botanical resource that is used at home and around the world to help solve global biodiversity challenges, and a collection of which we should all be proud. I am delighted to celebrate 350 years of the Botanics and look forward with hope and optimism that its ground-breaking work will play a vital role in addressing the environmental challenges of the future."

Professor Pete Hollingsworth, Director of Science at the Royal Botanic Garden Edinburgh, added "During our 350th year, we will continue to work towards a deeper understanding of plants and fungi, with a major focus on understanding the diversity and distribution of species, the threats they are facing, and how best to conserve biodiversity in the face of large scale environmental change."

In 2020, the Royal Botanic Garden Edinburgh will also undertake a major fundraising campaign to protect its spectacular and globally significant plant collection within its extensive Glasshouses. Edinburgh Biomes, the most visionary project in the Garden's entire history, involves the restoration of its listed Glasshouses and decaying research Glasshouses to avoid the loss of up to 4,000 plant species. The project also involves building cutting edge research, horticulture and education, enabling the Garden to continue its pioneering work.


For details about the 350th year and full timeline, visit rbge.org.uk/350.

ENDS


For information and interviews, please contact:

Shauna Hay, Royal Botanic Garden Edinburgh 0131 248 2900, 07824 529028, shay@rbge.org.uk

Kirsten Paul, Clark Communications, 0131 225 9596, 07814 48766, kirsten@clarkcommunications.co.uk

Note to editors:
The Royal Botanic Garden Edinburgh is a leading international research organisation delivering knowledge, education and plant conservation action. In Scotland its four Gardens at Edinburgh, Benmore, Dawyck and Logan attract over one million visitors each year and that figure is growing. It operates as a Non-Departmental Public Body established under the National Heritage (Scotland) Act 1985, principally funded by the Scottish Government. It is also a registered charity, managed by a Board of Trustees appointed by Ministers. Its vision is "to nurture a world that increasingly values, protects and benefits from plants."

Facts about the Royal Botanic Garden Edinburgh:

The Royal Botanic Garden Edinburgh has been discovering, collecting and caring for plants since 1670.
It ranks as one of the top four botanic gardens in the world.
The Garden's collections include its internationally important living collection of 13,500 plant species, its world-renowned Herbarium, which contains three million preserved plant specimens, and a highly acclaimed library and archive.
Royal Botanic Garden Edinburgh scientists work in 35 countries from China and Nepal to Brazil and Colombia, describing on average one new plant or fungal species new to science every week.
Every year, 12,000 learners benefit from the Garden's education programmes.
Its four Gardens – Edinburgh, Benmore, Dawyck and Logan - attract over one million visits a year.
Over 900,000 people visit the Edinburgh Garden each year and 100,000 visit the Glasshouses which are home to 8,000 exotic plants from around the world.
The Tropical Palm House was built in 1834, the Temperate Palm House in 1858 and the Front Range in 1967. All of these Glasshouses are listed buildings.
RBGE generates £52 million a year for the Scottish economy and has a global international economic impact of £103 million a year.