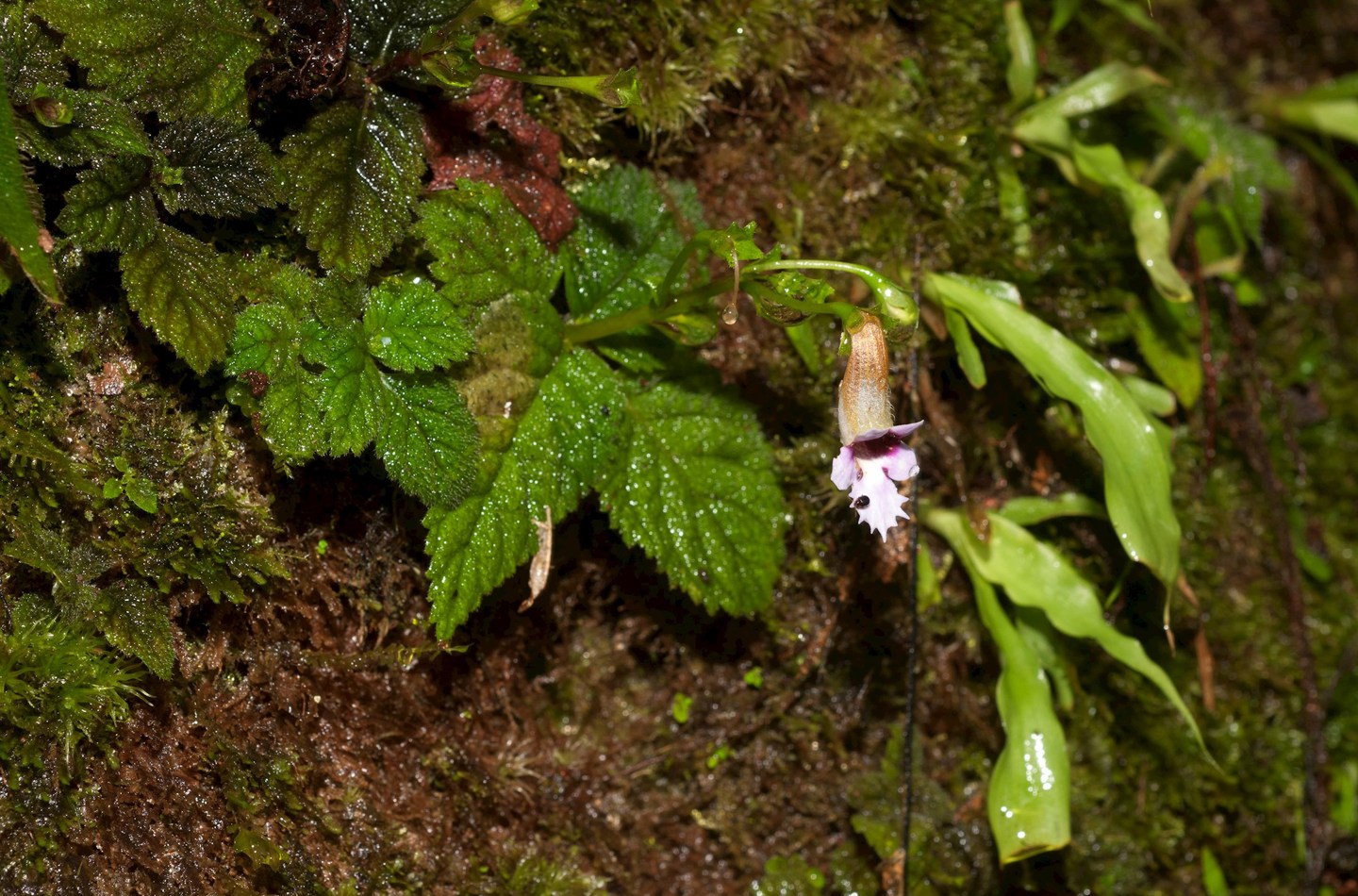 Discovering more of Earth's mega-rich plant diversity
More than one new plant species for every week of the year – from a mighty conifer to tiny tropical flowers and miniscule diatoms – 56 new species have been described as new to science by the Royal Botanic Garden Edinburgh during the last 12 months. In a concentrated effort to catalogue life on Earth, specimens from China to Peru and Vietnam to Scotland have been scientifically recorded and named.

While "discovery" of new species can suggest the detection of something small and hidden, advances in DNA sequencing of plant material are causing major rethinks. In the recording year from April 2019 to March 2020, one 'new' species hiding in plain sight was the five-metre tall conifer Amentotaxus hekouensis. First collected in 2006 from Yunnan, China. It has since been recorded in northern Vietnam and Laos. So few and small are its populations, on limestone mountains, its status as a new species - confirmed using DNA evidence - is already considered as Endangered.

Closer to home, hiding in the mud of Edinburgh's Blackford Pond, the miniscule diatom Sellaphora pausariae was harvested in a few handfuls of mud gathered in 2006. It became one of six diatom species described at RBGE in the last 12 months. Taking its place in the queue, until there was an opportunity for application by RBGE's powerful electron microscope and DNA laboratory sampling, this single sex microscopic algae finally has a name. While elusive to the naked eye, diatoms – with their elaborate silica shells - perform about 20 per cent of photosynthesis on Earth: every fifth breath we take. They are hugely important to the environment as essential parts of the planet's ecosystem. Other new diatoms came from the seas around Texas and Korea.

"All these 56 new species are part of an international obligation to fulfil objectives for the Global Strategy for Plant Conservation," explained Dr Mark Hughes, a botanist specialising in tropical biodiversity. "The aim is to ensure all plant diversity – on which all life depends - is understood, documented and recognised. Giving plants a name is the first step in ensuring their future. At a time of such rapid global environmental change, the work of botanic gardens has an increased sense of urgency."

Tropical rainforest research continues to bring in gems large and small. A total six tree species discoveries arose from a new look at a group in the mallow family, Pterospermum, used for timber, dyes and traditional medicine in the Malay archipelago. Three of these new species are known only from one or two collections. Newly named P. glabrum, capable of growing to heights of 40 metres in the forests of southern Borneo, demonstrates how much remains to be found in these dense yet ever-shrinking jungle habitats.

More lowly in stature, begonias, gesners and gingers - herbaceous plants of the steamy forest floor – continue adding to the catalogue of discoveries. From Borneo, Begonia dracopelta, has warty leaves reminiscent of the skin of the Bornean earless monitor lizard that cohabitates the jungle neighbourhood. Its name, given by taxonomists at RBGE, means "dragon-shield", as the shape and texture are reminiscent of a shield made of dragon skin.

The tally of gesners – the African violet family – includes Diastema fimbratiloba, a dainty relative of the horticulturally popular gloxinia, from the cloud forests of Peru. Also in the list are two species of Cyrtandra, one of which was found during an expedition to Yapen Island, north of New Guinea, in 2009. It flowered at RBGE in 2015. Anyone viewing the flowers in RBGE's Research Glasshouses, however, would be forgiven for not noticing the flowers. The nature of the tiny, green and quite hairy heads are reflected in the name Cyrtandra bungahijua, meaning "green-flower", in Indonesian. From nearby mainland New Guinea is the much more striking Cyrtandra vittata, named because of its pink stripes on somewhat gaudy flowers. In the current days of lockdown, these two Cyrtandra – along with hundreds of other specimens, many potentially new to science - are safe and being cared for by RBGE's reduced crew of Horticulture staff.

Ginger research continues apace at RBGE, where 14 new species have been escribed this year, nine of them in the genus Globba. These are graceful, slender plants with orange flowers and leaves with a distinctive ginger smell when crushed. Of the nine new species, eight are assessed as not being of any conservation concern, because of extensive distributions in their native Thailand national park network.

Poignantly, the single new rhododendron of the year (Rhododendron widjajae) was found on the remote Mount Mekongga in Sulawesi, Indonesia. It grows near the tip of the rugged mountain, at 2,650 metres altitude, and was described by RBGE's recently deceased and much missed colleague, the renowned Dr George Argent, in collaboration with the Herbarium in Bogor, Java. It has fiery orange flowers and tiny thick leaves that suit it its cool and misty mountain home.

The largest group of discoveries were in lichens, resulting from research in Tasmania and the USA. A solitary bryophyte, was the liverwort Fossombronia delgadilloana, found in the species-rich subalpine wetlands of Mexico and Venezuela. It is one of the biggest members of its family (Fossombroniaceae), quite robust and reaching heights of up to 5cm. Frequently overlooked, lichens and bryophytes are fascinatingly diverse, significant players in Earth's biodiversity and retain features that were found half a billion years ago in the earliest land plants.

"Although we publish new species throughout the year, we always find our new discoveries exciting, and it is very satisfying to make sure each plant species gets a voice in a rapdily changing world," added Mark Hughes. "Each brings a reminder of the number of species yet to be discovered – and what they might mean for the world's habitats, on which all human and animal life depends. But, in many regions around the world, time is not necessarily on our side. It is crucial botanic gardens and their partner agencies keep their focus on combating the effects of the climate emergency and biodiversity crisis. This effort is still ongoing, even under lockdown, as we work through the digitized specimens from the 3-million in our herbarium."

---

Summary of new species described by scientists at RBGE in 2019/2020:

56 new species

15 lichens, 14 gingers, 8 begonias, 7 trees (assorted), 6 diatoms, 3 gesners, 1 rhododendron, 1 liverwort and 1 fungus

From America, Argentina, Australia, China, Ecuador, Ethiopia, Indonesia, Korea, Laos, Malaysia, Mexico, Papua New Guinea, Peru, Thailand and Vietnam. And Edinburgh.