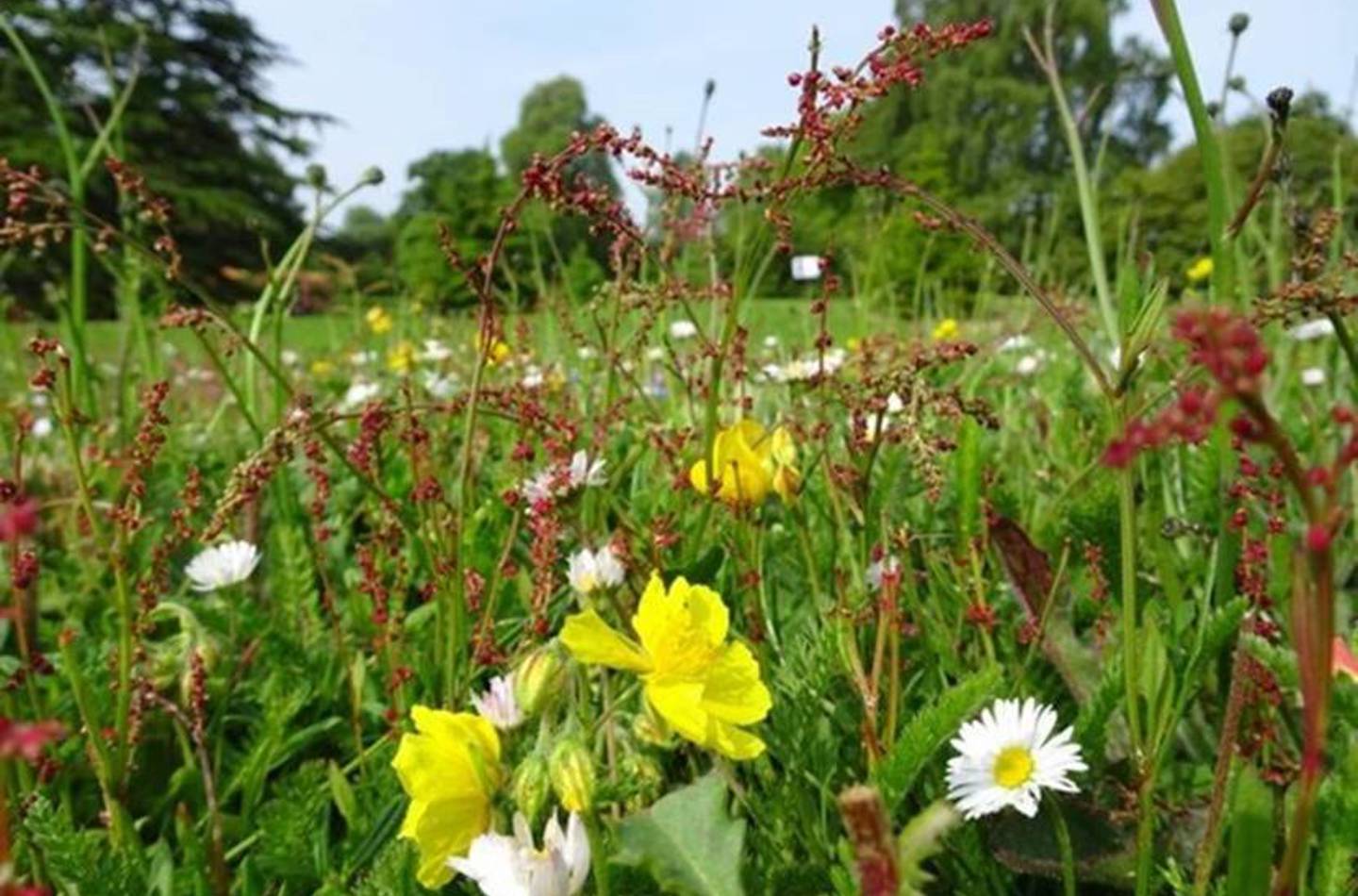 Botanic Gardens give nature a helping hand during No Mow May
No Mow May, Plantlife's annual campaign to give nature a helping hand, is being supported by the Royal Botanic Garden Edinburgh (RBGE) at its four sites across Scotland.

At the 70-acre Edinburgh Garden where a 1000 square metre Living Lawn is providing a nectar-rich habitat for pollinating insects and enhancing biodiversity, the focus is already very much on the theme of 'planting for nature'.

Curator of the Living Collection, David Knott, commented: "The Living Lawn, which is part of the Edinburgh Living Landscape initiative, was sown in 2019 using a seed mix which includes Anthyllis vulneraria (kidney vetch), Bellis perennis (common daisy), Rumex acetosella (sheep's sorrel) and Thymus polytrichus (thyme). Living Lawns are excellent at encouraging and enhancing biodiversity, only need cutting every three to four weeks during the summer months and are more tolerant of extreme weather conditions so they can withstand long dry spells.''

The Garden is growing a wildflower meadow that won't be cut until late summer or early autumn. Mown pathways encourage visitors to wander through the area rich with 37 species of grass and native wildflowers including yellow rattle and orchids.

At Dawyck Botanic Garden, near Peebles in the Scottish Borders, the horticulturists will refrain from cutting a number of key high-profile areas in and around the Visitor Centre and the main central core of the Garden.

Graham Stewart, Garden Curator, said: "These areas are usually regularly cut and tended throughout the season so visitors will see lots of visual clues that we are taking part in No Mow May.''

He added: "Around two thirds of Dawyck's 65 acres are always left uncut for the entire season with late mowing in the autumn, so our attention to encouraging biodiversity within our grass sward is already top class.''

At Logan Botanic Garden in Dumfries & Galloway, the rear of the wide grass verges flanking the long driveway, an area of around half an acre, won't be cut in May.

Curator Richard Baines said: "We all talk about being nature lovers but mowing our lawn is harmful to the animal population. For instance, bees, moths, hedgehogs and birds need long grass to thrive. Not cutting your grass for one month will increase the abundance and diversity of bees which we need to pollinate and produce more flowers.''

The Silent Space at Benmore Botanic Garden, near Dunoon in Argyll will be abuzz with wildlife when the grassed areas within the Golden Gates Arboretum are left uncut.

Curator Peter Baxter said: "As a mountainside Garden covering over 120 acres, many areas are already the perfect habitat for insects, birds and animals including red squirrels. However, we will be giving nature an extra helping hand by not cutting the grass during May.''

Alistair Whyte, Head of Plantlife Scotland welcoming the Gardens' involvement said:

"We are delighted that the Royal Botanic Garden Edinburgh is supporting Plantlife's No Mow May campaign across its four sites in Scotland. As well as being fantastic news for the wild plants and pollinators in these beautiful sites, the involvement of the Botanic Gardens will hopefully inspire many of the visitors to these special places to turn their own gardens into wildlife havens as well."

Main image by Kirsty Wilson.