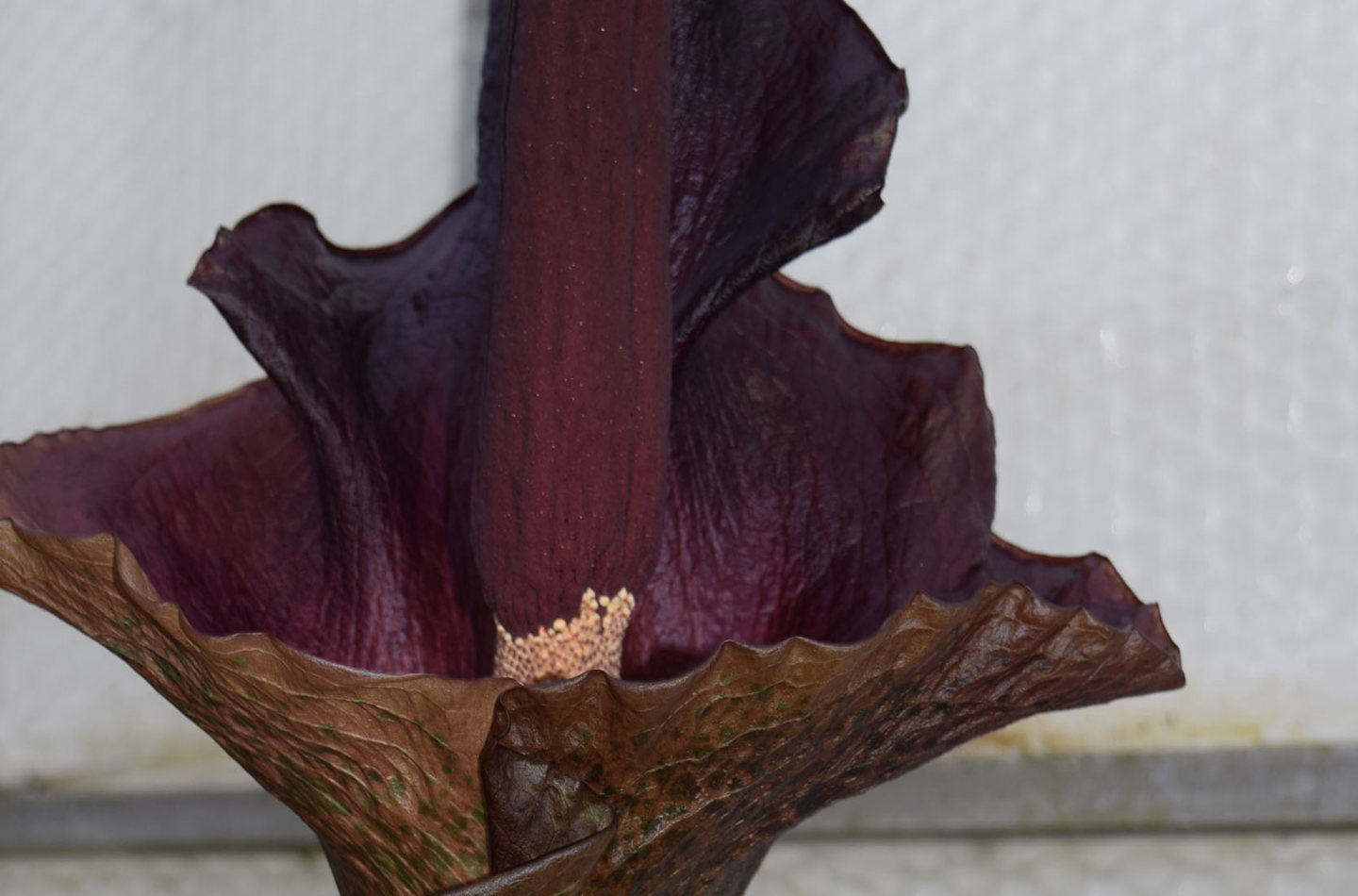 Amorphophallus konjac Flowering
Royal Botanic Garden Edinburgh
Visitor Attraction
General and Corporate
Science
Fri 11th Jan 2019
A distant cousin of the famous Amorphophallus titanum (New Reekie as it is affectionately known as here at RBGE), this Amorphophallus konjac has bloomed for its first time at RBGE and is the first to do so in many years. Having arrived as part of a trio two years ago the Amorphophallus took little time to bloom catching Indoor Horticulturist, Nathan Kelso by surprise. This meant the plant has had to remain in the Research Glasshouse as moving it may have caused it to snap. Luckily, the second of the three plants has begun to show signs of flowering and will be moved to one of the public glasshouses imminently.

The plant which is smaller and less pungent than its cousin is used as a food source in Asia from where it derives, often being used as a vegan form of gelatine or made into noodles. It usually blooms every few years in the wild but those cultivated at RBGE could bloom every year although the flower only lasts three to four days before entering a rest period.

Unlike its cousin, Amorphophallus konjac is in no danger of extinction. Not only is it grown as a crop across tropical areas of Asia it also grows very easily as long as you have glasshouse conditions. Thanks to research of the New Reekie and other specimens of Amorphophallus it has recently been listed as endangered by the International Union of Conservation of Nature (IUCN). Logging for timber and deforestation for palm oil plantations has caused a huge decline in its numbers to less than a thousand mature plants remaining in the wild. The IUCN recovery plan is now in place to protect the species.