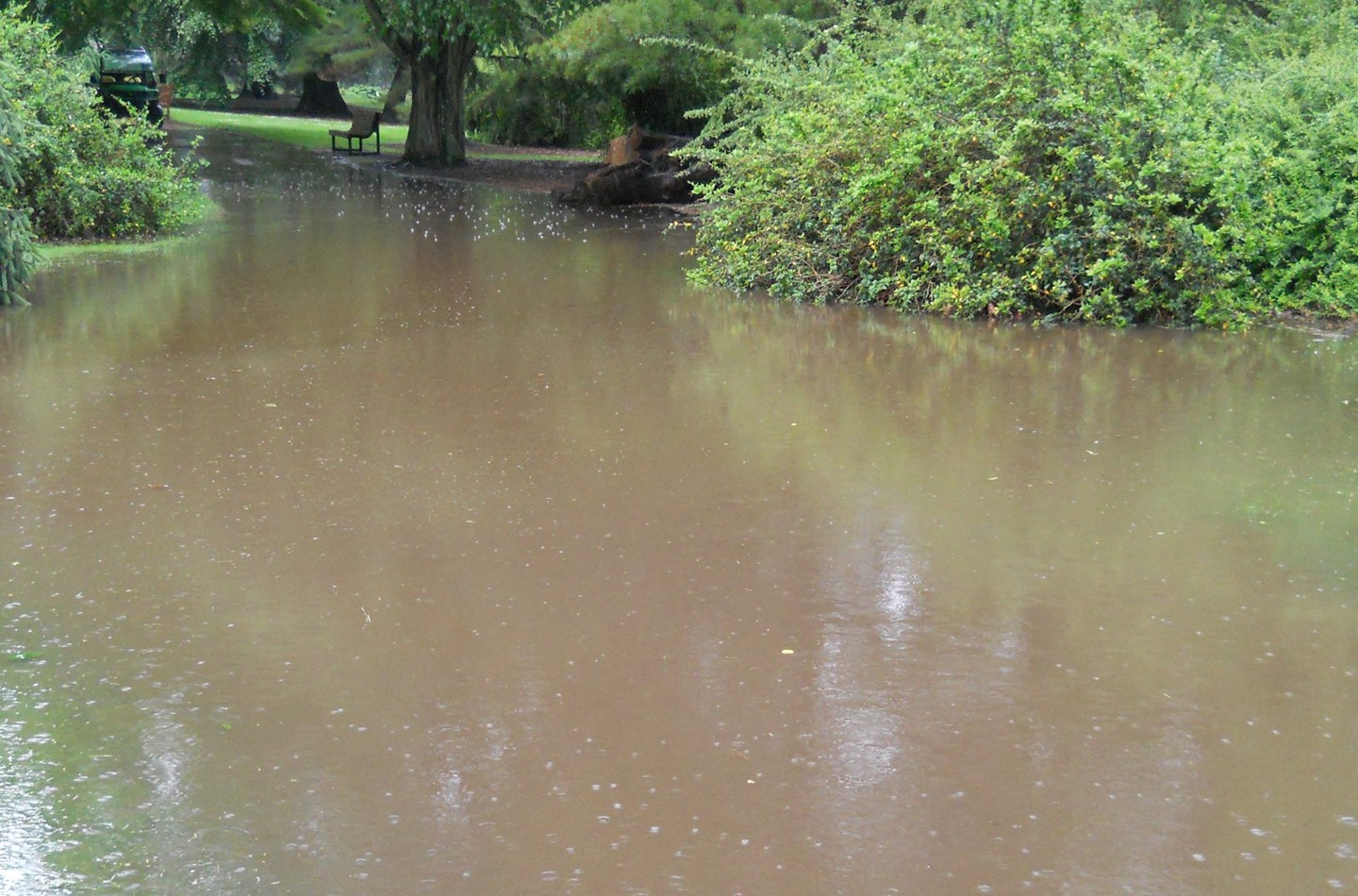 Changing climate calls the tune for Scotland's leading Garden
Royal Botanic Garden Edinburgh
Benmore Botanic Garden
Dawyck Botanic Garden
Logan Botanic Garden
Science
General and Corporate
Mon 24th Dec 2018
;
A year of record dry spells, soaring heat and late frosts, mixed in with gales, rain and snow dumps: the four contrasting sites of the Royal Botanic Garden Edinburgh (RBGE) have witnessed changing weather patterns that reflect how climate change is impacting Scotland. Looking to the New Year, plant scientists and conservation horticulturists are further developing strategies to help habitats survive the shift.

While Storm Ali caused damage at all four sites, as it tore through Scotland in September, it was the flagship Edinburgh Garden that displayed the most dramatic toll. The major clear-up of broken glass, ripped from the public Heritage Glasshouses and back-up Research Houses, confirmed once again that major refurbishment and replacement is required to safeguard the priceless Living Collection they house. In 2019, a programme of major fundraising will be launched to protect the future of RBGE's priceless living collection of plants, create crucial new research facilities and realise the visionary Edinburgh Biomes initiative.

On the other side of the country, seven miles from Dunoon, in Argyll & Bute, Benmore Botanic Garden, chronicled its warmest day since records started 88 years ago. The 30.9C experienced on July 28 is a new record high for Benmore, beating the previous highest temperature of 29.6C on July 12, 1983. The West Coast Garden also saw precipitation 35 per cent below average. However, January rainfall appears to be trending on an upward curve, with six of the last 10 years recording totals considerably above the long term average – this year up 27 per cent.

Meanwhile, Logan Botanic Garden, near Stranraer in Dumfries & Galloway, is warmed by the Gulf Stream which enables plants from Australia, New Zealand, South and Central America and Southern Africa to thrive outdoors. Having recorded sunshine 689.4 hours from January to July in 2017, and 875.3 sunshine hours January to July 2018- 875.3, the Garden has recorded a 27 per cent increase year-on-year.

Finally, Dawyck Botanic Garden, near Peebles in the Scottish Borders, recorded its driest May since records started. A reading of 29.3C also gave the arboretum its highest temperature for 10 years.

For David Knott, Curator of the Living Collection, and his Horticulture staff, there is a detailed balance between working with colleagues in Science on in-situ and ex-situ conservation projects – many of which are happening behind the scenes – and maintaining four leading visitor destination Gardens, of aesthetic quality, to encourage wider public interest and engagement in the natural world. He explained: "The weather extremes we are experiencing means that we are thinking differently about how we manage each of the four the Garden landscapes. In Edinburgh to cope with the drier conditions we are experimenting with pollinator-friendly, species-rich, Living Lawns that are also more drought tolerant and require less frequent cutting. To cope with the wetter conditions we are experimenting with the installation of a Rain Garden that mitigates flooding by capturing water then releasing it slowly. It will also provide a habitat for moisture-tolerant plants and related species. It will be interesting to monitor both projects in future years."

As records continue to smash, the organisation increasingly focuses on adaptation strategies for habitats in Scotland and globally, he added: "Our Scottish work takes us well beyond the boundaries of our Gardens. In the Cairngorms we continue to focus on the conservation of the Cicerbita alpina (Alpine blue-sow-thistle), while Polygonatum verticillatum (Whorled Solomon's Seal) is a rare and endangered perennial now only found at nine locations in the UK, all of which lie within Tayside. At the same time, research into lichens, the important bioindicators for pollution and climate change and for habitat management, takes RBGE staff around the country from the Cairngorms to city centres and all four of our sites, working with a broad raft of partners."

Re-introducing Cicerbita alpina

ENDS
For further information, interviews or images, please contact Shauna Hay on 0131 248 2900/07824 529 028 or Clare Piggot on 0131 248 2925.

EDITOR'S NOTES
The Royal Botanic Garden Edinburgh (RBGE) is a leading international research organisation delivering knowledge, education and plant conservation action around the world. In Scotland its four Gardens at Edinburgh, Benmore, Logan and Dawyck attract around a million visitors each year. It operates as a Non Departmental Public Body established under the National Heritage (Scotland) Act 1985, principally funded by the Scottish Government. It is also a registered charity, managed by a Board of Trustees appointed by Ministers. Its mission is "To explore, conserve and explain the world of plants for a better future".