Scottish Rhododendron Festival 2019
Come to the Royal Botanic Garden Edinburgh, Benmore, Dawyck and Logan and enjoy wonderful displays of rhododendrons. Our four Gardens have one of the world's richest collections.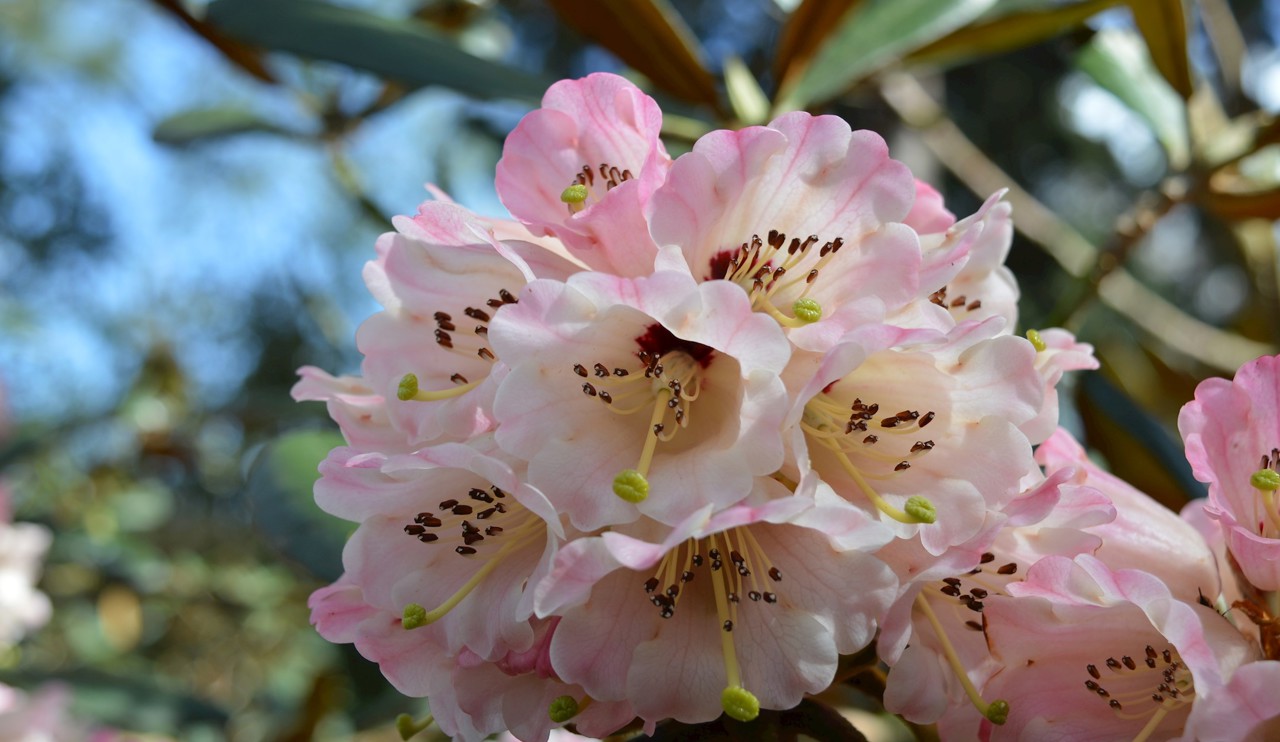 Scottish Rhododendron Festival is organised by Discover Scottish Gardens and is supported by VisitScotland. It runs from 1 April to 31 May.
For the full events listings, please check Visit Scotland and read the latest news on their Blog
You can also just come along to the Gardens and enjoy the rhododendron displays, at your leisure or join a Guided Walk.
More Information
Benmore walks

Rhododendron Walk

Discover Benmore's spectacular rhododendrons by joining expert David Chamberlain for a walk amongst the Garden's outstanding collection. Benmore provides the perfect habitat for rhododendrons and many specimens, grown from seed and gathered by the early plant hunters, can be seen in the Garden today.

11 April
14:00 to 16:00.
Price: Garden admission

 

Benmore Spring Walks

Spend an afternoon with our Garden Guides and discover the history, plants and seasonal highlights of Benmore Botanic Garden.

Tuesday and Sunday, 19 March to 28 May
14:00 to 16:00
Price: Garden Admission

 

Benmore Explorer Tours

Enjoy the beauty of the Garden from the comfort of our Garden vehicle.

Wednesday and Thursday, 20 March to 30 May
14:00 to 16:00
Price: Garden Admission

 

Benmore Open Day


Free fun for all the family

19 May
12:00 to 16:00
Price: Free

 

Scotland's Gardens Scheme walk


Discover the history, plants and seasonal highlights of Benmore Botanic Garden with one of our Garden Guides.

 

Dawyck walks

Dawyck is a delight for rhododendron enthusiasts - many of its collection were gatherered from the wild and its earliest specimens are now over 100 years old. Join a Sunday afternoon guided tour and learn about Dawyck's fascinating and spectacular collection of rhododendrons and azaleas.

Sunday Walks

Every Sunday between 23 March and 26 May
14:15 to 15:15
Price: Garden admission

Edinburgh walks

Explore the superb colours of the rhododendrons that bloom outdoors and the exotic rhododendrons in the Edinburgh Glasshouses.
RBGE has the largest cultivated collection of tropical rhododendrons, which thrive in early spring, within the Montane Tropics Glasshouse.

All walks start at the John Hope Gateway visitor centre. Price £6, no booking required.

Rhododendron Walks

6, 18 and 28 April and on 2, 11 and 23 May
11:00 to 12:00
Led by expert guides Maria and David Chamberlain
Note: these walks replace the daily Morning Spring Walks

 

Morning Spring Walks

Daily from 1 April to 31 May (except when the Rhododendron Walk is on)
11:00 to 12:00

 

Afternoon Spring Walks

Daily from 1 April to 31 May
14:00 to 15:00

 

Logan walks

Explore Logan as it bursts into colour and enjoy a guided walk discovering carpets of triliums, exotic rhododendrons and many other species in all their glory.

Early Spring Walk: Full Speed Ahead


9 April
10:30 to 12:00
Price: Garden admission

 

Spring Walk: The Magic of Spring


14 May
10:30 to 12:00
Price: Garden admission

 

Open Day

Enjoy the Scottish Rhododendron Festival at Logan today when a donation from garden admissions will be made to support Scotland's Gardens Scheme charities.

 

Our range of rhododendrons

Don't forget to visit the shops at Edinburgh, Dawyck and Logan where you will find a wide range of rhododendrons such as Nancy Evans, Hoppy, Titian Beauty, Fantastica, Percy Wiseman as well as:

Compact hybrids such as Firelight and Golden Gate
Hardy Hybrids such as Madame Masson and Taragona
some large specimens of Cunningham's White and Scintillation
Alpine/Dwarf such as Ginny Gee, Blue Tit, Princess Anne and Cream Crest cover the full colour spectrum
Deciduous Azaleas with the most popular R. luteum, Fireworks, Northern Hi Lights and Chanel (new this year)
Evergreen azaleas like Geisha Orange and Purple, Arabesk and Torchlight.

All are smothered in buds, with a good selection of colour choices in the various ranges.

Rhododendron 'Grisede'

Variations on this range are available in Dawyck and Logan.