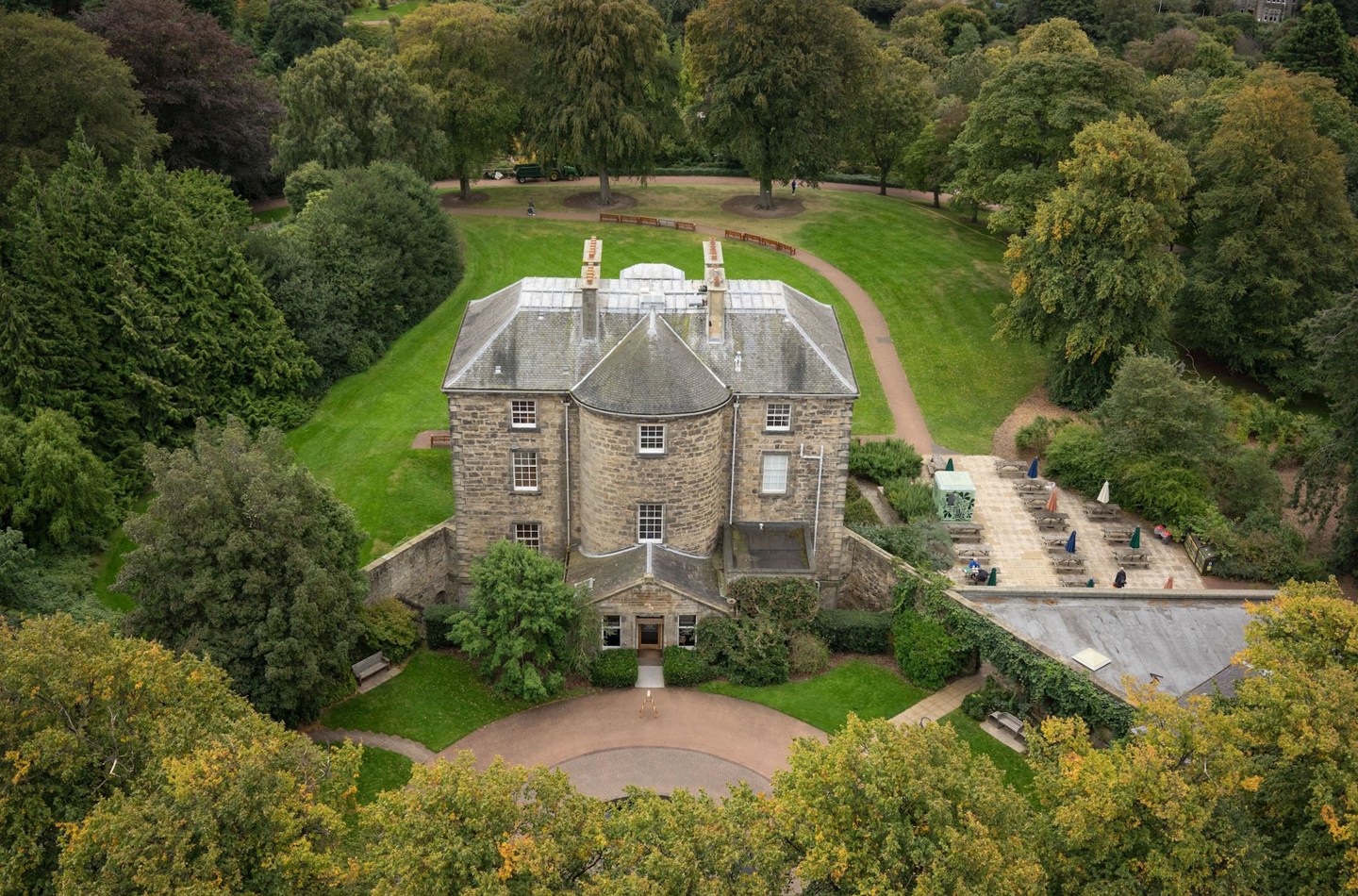 Introducing Climate House
Following the award of the Outset Transformative Grant, Inverleith House will be transformed into Climate House as part of a three-year project. Climate House will welcome artists from Scotland and around the world to showcase work that encourages conversations about life on earth and expand our understanding of biodiversity and our place in the world. The first exhibition Florilegium: A gathering of Flowers is on show 16 October - 13 December 2020.

Climate House projects are curated by RBGE Head of Creative Programmes Emma Nicolson and are guided by the organisation's new manifesto for the arts By Leaves We Survive.

To hear more about the vision for Climate House, and how botanical knowledge supports practices of ecological and personal healing, you can listen to Emma in conversation with hosts Victoria Sin and Lucia Pietroiusti, artists Keg de Souza and Nabihah Iqbal, and botanist Greg Kenicer in the Serpentine Podcast Back to Earth: By Leaves We Listen.

 

Florilegium

RBGE was founded in 1670 and in the course of our scientific work over the last 350 years the Garden has accumulated a world class collection of botanical art. In order to ensure that this collection continues to develop, the RBGE Florilegium Society has been established to create a permanent, visual record of RBGE's botanical and horticultural work through the acquisition of illustrations of the plants that are grown, collected, studied and named by RBGE staff. 

Lyndsay Mann, A Desire For Organic Order

Unlike other collections of botanical illustrations, and building on RBGE's existing relationship with the contemporary arts, Florilegium: A gathering of flowers takes a more expanded approach and invites artists from other art disciplines to contribute. As part of the exhibition, artist Lyndsay Mann's film A Desire For Organic Order (2016) is being screened in Inverleith House.

A Desire For Organic Order (2016) is a visual tour of the Herbarium at the Royal Botanic Garden Edinburgh, which shares its home with the garden's Centre for Middle Eastern Plants. Tracing archive materials to contemporary links between Scotland and the Middle East, the film connects scientific evaluations of nativeness in the botanical realm to societal shifts in perceptions of nativeness for the individual.

Drawing on botanical history and the new constitution in Iraq, the paranormal, Burmese strategies of mind-flight, the narrative includes the last letter written by the artist's grandfather, stationed in Burma in World War II, which reached home before word of his death. Investigations of belonging, dispersal and difference explore the interconnected themes and experiences that bind voices from the past with the voices in our head and the spoken voices in our present.

 

 

A new manifesto for the arts at RBGE

Download a copy of our new manifesto for the arts -By Leaves We Survive (pdf)

If you need a copy in an alternative format for accessibility, please contact webmaster@rbge.org.uk or call 0131 552 7171.

 

How many people think twice about a leaf? Yet the leaf is the chief product and phenomenon of Life: this is a green world, with animals comparatively few and small, and all dependent upon the leaves. By leaves we live. Some people have strange ideas that they live by money. They think energy is generated by the circulation of coins. But the world is mainly a vast leaf-colony, growing on and forming a leafy soil, not a mere mineral mass: and we live not by the jingling of our coins, but by the fullness of our harvests." ~ Quote extracted from Patrick Geddes's last lecture at the University of Dundee in 1919.

Geddes is well known as a generalist, most famous as a town planner and conservationist but he was also a great ecologist. Patrick Geddes was appointed Assistant in Practical Botany at Edinburgh University and was based at the Royal Botanic Garden Edinburgh making him an important link to our past.

Alongside views from colleagues, artists and others his quote was instrumental in formulating our new manifesto for the arts. It helps us take our art beyond illustration, meaning it is the very process of engaging with the art that enables us to think about new ways of living within the planet (living from leaves).