Art in the Regional Gardens
Each of RBGE's Regional Gardens has its own style and these unique personas are reflected in their relationships with artists and works they have created with Benmore, Dawyck and Logan in mind.
Benmore
Art takes many forms and Benmore's former glory as a grand estate is represented magnificently in the refurbished Grade-A listed Golden Gates commissioned by James Duncan and crafted in Berlin for the 1878 Paris Universal Exhibition. It is from this period that we also inherit the unique and gloriously restored Victorian fernery and also the much-photographed bronze statue A boy with two dolphins, dating back to 1875.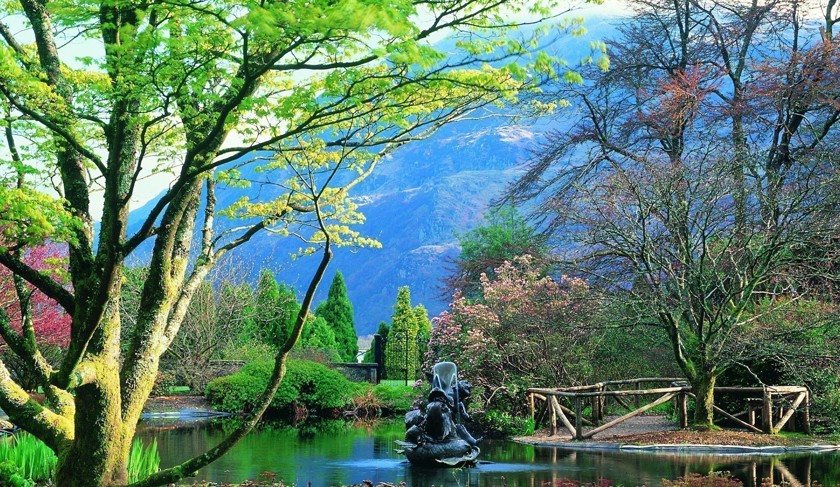 Through the ages at Benmore artistic innovation has taken the form of the sadly-gone grand art galleries to Puck's Hut, designed by Sir Robert Lorimer in memory of RBGE Regius Keeper and King's Botanist in Scotland, Isaac Bailey Balfour. The Garden also remembers Bayley Balfour's successor, William Wright Smith, with the Viewpoint memorial. On much smaller scale is the armillary sphere commemorating Harold Fletcher, Regius Keeper from 1956 to 1970. Bringing us right up-to-date, lookout for the stunning collection of carved structures by local craftsman Guy Elder.
Also part of a former estate, Logan's heritage is seen in the proliferation of ornamental stonework, today neatly complimented by modern yet sympathetically crafted cairns.
Dawyck
The Garden enjoys the presence of Italian stonework linking garden terraces and woodland paths. This was - in the main - commissioned by Sir John Naesmith, a former owner of the Garden, who was also responsible for the ornamental urns which are another eye-catching addition.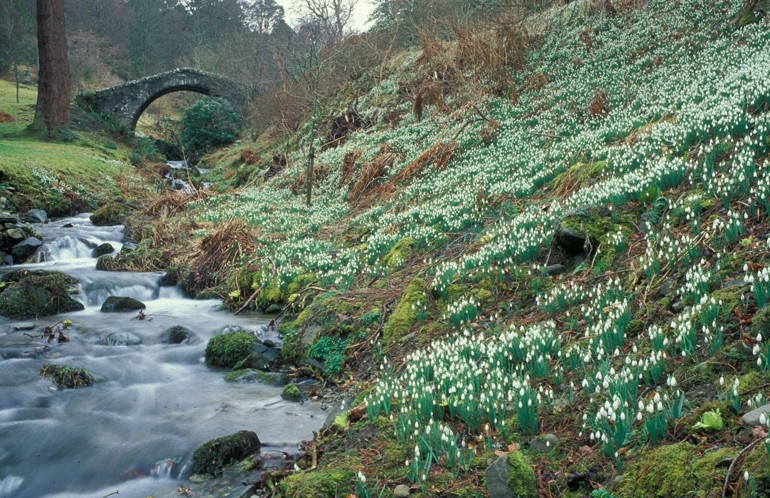 A bronze cast heron stands on the banks of the Scrape Burn in memory of Professor Douglas Mackay Henderson, a pre-eminent Scottish botanist and mycologist of the 20th century. Twelfth Regius Keeper of the Royal Botanic Garden Edinburgh, from 1970 to 1987, Professor Henderson, CBE and FRSE died in Inverness in November 2007. The sculpture by Elizabeth Macdonald Buchanan is also a nod to Heron Wood, the world's first cryptogamic sanctuary and the historic site of King James IV's heronary during his fifteenth century reign. Herons nested at Dawyck until 1968 when a fierce hurricane ripped through central Scotland, flattening trees on which they relied.
Crafted from a one ton piece of Portland limestone, Gentle Presence was created by Susheila Jamieson to portray a sense of movement and calming energy. Now installed in the centre of the 25 hectare woodland garden overlooking the Scrape Burn and Dawyck's tallest trees, it can be enjoyed by over 30,000 people who visit each year.
The trunks of trees, felled at Dawyck are now being granted new leases of life as sculptures, one representing David Douglas the intrepid adventurer who contributed hugely to the make-up of Britain's gardens and woodlands, before coming to a mysterious end at the bottom of a bull pit in Hawaii. In another, a section of beech has been carved into a First Nations figure, representative of people of North America and British Columbia. The sculpture, which stands about eight feet tall, celebrates the Garden's collection of trees that are native to North America.
Logan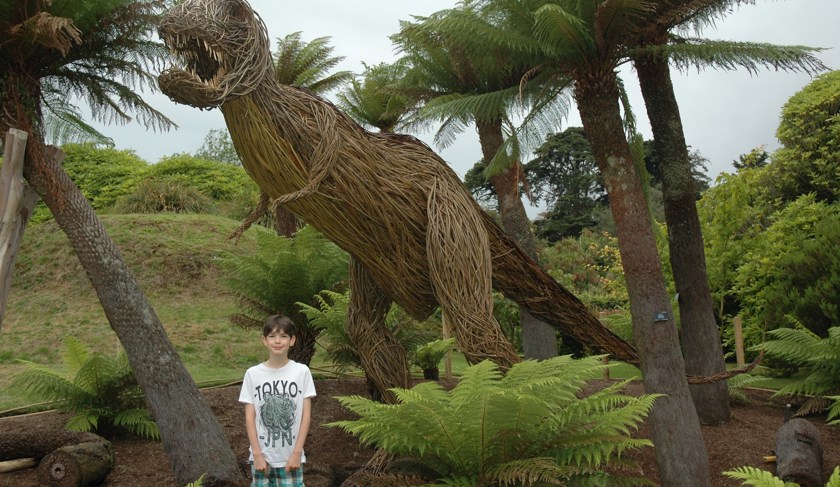 A sculpture of a Tyrannosaurus Rex by Trevor Leat, one of the foremost willow sculptors in the UK